Holiday in Slovenia October 2018
We did not know much about Slovenia, but as always we have gathered information about the history and the present days and together with our impressions, we would like to share it with you.
It did not start well – you can imagine us reaching with suitcases Prague airport at 6 p.m. and looking for our flight for Ljubljana – nothing on the board. A lady at the information desk could not help. The so called representative of Adrian Airways Czech Airlines tried to call Ljubljana – the office of Adrian Airways was closed since 5 p.m.. In the end we managed to find some emergency number and we were rebooked for the next day morning. They were not able to explain why we had not been informed in advance, however on Tuesday, according to the new autumn flight schedule, there are no flights between Prague and Ljubljana any more. We had only an empty fridge at home and needed quickly something to eat. In the airport restaurant before check-in the only food available at this time of the day was a sausage and a goulash soup. We had the soup, probably the most expensive goulash soup in the Czech Republic. After dinner we took the Halo taxi home, left our suitcase unpacked and hoped for better luck on the next day.
Adrian Airways did fly on the next morning and we arrived in Ljubljana, Capital of Slovenia, at hotel Best Western Slon (slon meaning elephant), without problems.
Short History of Slovenia:
Romans, Venetians, Ottomans, Habsburgs etc. - Slovenia has never been an independent state until 1991.
In the late 1270, Ljubljana was conquered by King Ottokar II of Bohemia. After Ottokar's defeat, it became - together with the rest of Carniola – property of Rudolph of Habsburg. It was governed by various Habsburgs for 600 years (Bohemia and Moravia only 300 years), later on as a part of their monarchy till the end of the 1st World War.
In 1918, following the end of World War I and a colapse of Austrian–Hungarian monarchy, the region joined the Kingdom of Serbs, Croats and Slovenes. In 1929, the Kingdom of Serbs, Croats and Slovenes was renamed to Kingdom of Yugoslavia.
Slovenia was the only present-day European nation and the only part of Yugoslavia that was completely absorbed and annexed into neighboring Nazi Germany, Fascist Italy and Hungary during World War II. More than 30,000 partisans died fighting Axis forces and their collaborators, approximately 8 percent of Slovenes died during the Second World War.
After World War II, Ljubljana became the capital of the Socialist Republic of Slovenia which was a part of the Socialist Federal Republic of Yugoslavia, united under the President Marshal Joseph Bross Tito. It retained this status until declaration of independence in 1991 after armistice had finished a short military conflict with Yugoslavian army called Ten Days War. Slovenia joined European Union and NATO in 2004 and the Eurozone in 2007.
We participated in 2 hours sightseeing walk in Ljubljana which was the biggest achievement for me because of my knee, still in the process of healing. These tours are free of charge – people are just giving some tip to the guide if they want so. Our guide was a young girl who was fluent in English and quite knowledgeable.
Interesting information about the capital of Slovenia:
Ljubljana has around two hundred thousand population, is surrounded by mountains and has a river Ljubljanica.
Centre of Ljubljana has been completely closed for cars or any traffic, only pedestrians and bicycles are allowed. Only small electro-vehicles which collect those who cannot walk any more free of charge are permitted in the centre. These rules were enforced by Zoran Jankovič, the mayor of Ljubljana since 2006 and not everybody liked it (probably there were some who really hated it). However, he got it through and is still a mayor until today. Jankovič declared as his aim to change Ljubljana into a green, citizens friendly city, tolerant to all minorities.
Symbol of the City is a Dragon of Ljubljana. According to a Greek legend, the Argonauts led by Jason found on their return home after having taken the Golden Fleece a large lake surrounded by a marsh on the place of present-day Ljubljana. A monster who lived there was killed by Jason. Folk tradition changed this monster into a dragon, who is a part of the city´s coat of arms and flag. As St. George also killed a dragon, he is a patron of the city.
Architecture of Ljubljana – two types:
1) Italian influence – baroque architecture
2) Austrian influence – secession (art nouveau).
The most famous architect Jože Plečnik – (also the architect of Prague Castle) – designed Triple Bridge, Central Market, Colonade, Slovene National and University Library. Jože Plečnik envisaged also a bridge connecting his Central Market´s colonnade with Petkovshkovo Embankment. However, this bridge was built only in 2010. It is called The Butchers´ Bridge but it was taken over by couples in love as Ljubljana´s love bridge. Countless lovers have symbolically padlocked their love and dropped the keys into the river Ljubljanica which flows underneath. It is adorned with statues and sculptures by the renowned Slovenian sculptor Jakov Brdar. The large statue standing on the Petkovškovo Embankment side of the bridge depicts Prometheus, while the miniature statues on the parapet allude to the activity that once went on in the butchers' vending booths.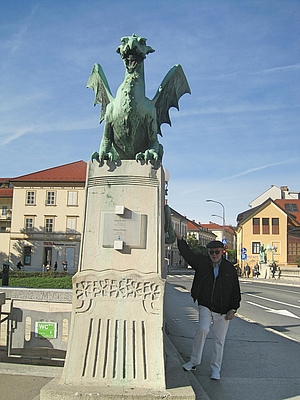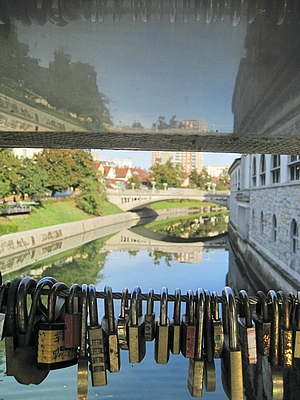 The main Ljubljana´s cathedral, St. Nicholas Cathedral, has bronze sculptured doors created by Mirsad Begič to commemorate 1250th anniversary of arrival of Christianity in Slovenia and blessed by Pope John Paul II during his visit in the year 1996.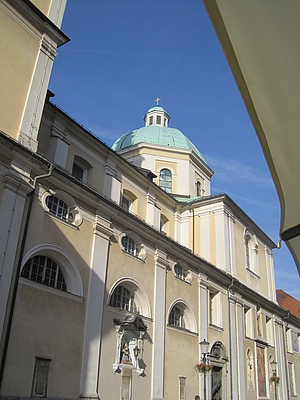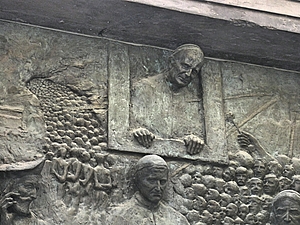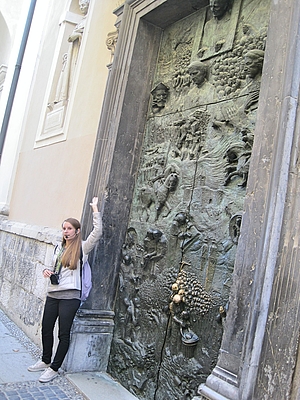 We did not have many occasions to speak with locals although we are always trying. One of them was a taxi driver Peter who took us from Ljubljana to the coastal town Portorož. Peter was telling us his life story – by divorce he lost his wife and son and he came from the interior native town to the coast with an old car and ten euro in his pocket. He was ready for a new beginning and also ready to accept any type of work including cleaning or sweeping the streets. But when he was sitting on the bench in Portorož thinking what to do and begging God to help him, there was a taxi passing by which stopped not far from him. He was like enlightened, went to the taxi driver and asked if he would not need some assistance in driving for his company. This one did not, but he gave him a contact to a friend of his who employed Peter. He was driving day and night, later on he took a credit and bought his own car. This was 4 years ago (he will be forty this year) and he just managed to pay all his debts. In respect of his views, he was strongly anti-American, but also not much pro-European, he was also against the split of Yugoslavia. He would love the situation when his country would be dependent on nobody (which I told him was an illusion for such a small country in this globalized world). The industry which Slovenia had before the collapse of Yugoslavia went mostly bankrupt, as per Peter´s opinion they just export wood and wood products and services (tourism).
However, I have found other sources saying that the country still has some small industries, producing electrical equipment, electronics, trucks, chemicals, processed food, textiles, paper and paper products although the percentage of services in the economy is increasing. But of course with such a small number (population of 2 million), it seems that the country can nourish its people quite well. All looks somehow clean and tidy. The infrastructure in Slovenia seems to be very good - motorways with tunnels and bridges, good quality roads, well functioning internet etc.
We were passing the American Embassy in Ljubljana which has as its neighbour a kindergarten. Children were playing outside, basically at the wall between the Embassy and the kindergarten. I told him that it was not the safest surrounding for the kids, but he was of the opinion, that Slovenians have nothing to be afraid of. Slovenia is a small country and it is not involved in any wars (like Afghanistan etc.), it is not playing any part in the world politics and therefore there is no danger of terrorist or other attacks.
It is difficult to judge on the standard of living being only a tourist in the country. Around 2010 Slovenia had been harshly hit by the European economic crisis, however, at the moment it is on the way up again. The unemployment rate is only around 6 %, GDP growth projection for 2018 4,4 %, foreign trade balance is positive. We have not seen any beggars, people looked prosperous, there were also Slovenians in the expensive restaurants and spas. But of course it is impossible to get a full picture, some locals commented that situation is getting worse.
Slovenians do not seem to be bothered too much about rules. E. g. on the promenade, there are signs prohibiting dogs and bicycles, but people are riding there and also walking with their dogs. Or: at the whirlpool of the swimming pool, a sign says that the entry of kids is prohibited. However, parents are going to the whirlpool with quite small children in spite of that. The supervisors of the swimming pool do not bother and let them.
Portorož (Port of Roses) is a resort at the Adriatic Sea in the municipality of Piran. We came after the season and although the weather was beautiful, the place was not crowded. From the terrace we had a pleasant view at the sea, promenade and piers – we could also observe the local marathon run. It was surprising how many casinos are in Portorož and surroundings. We had 3 casinos in walking distance and when driving from Ljubljana we could see many signs showing the way to various more. Another taxi driver of ours explained that most of the population is not enchanted by this freedom to open a casino wherever whoever wants, as gambling is becoming a dangerous addiction in Slovenia. Hotel Slovenia which we have chosen was of course without casino. It had a big inside swimming pool with sea water and spa area – a balsam for my knee after various physio therapeutic exercises and a restaurant Tree Top with a view into the crowns of the trees.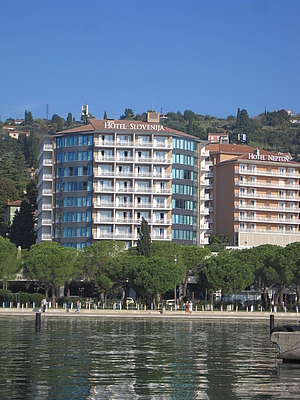 Piran
Town of Piran about three kilometres distance from Portorož is easily reachable by bus which we have gladly used. It has very narrow lanes, similar to Venice, Marine Museum and a Gallery of Contemporary Local Arts built and financed by funds of European Union. The signs in this region are all written in 2 languages, Slovenian and Italian.

Izola means island. It is a small former fisherman village easily reachable by ship – the sailing takes one hour. We spent some hours roaming in its small lanes and enjoying the sunshine.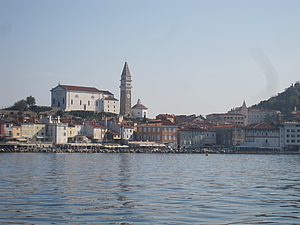 Lipica
This is the place from where Lipizzaner horses originate. The stud farm is situated in Slovenia in a small town Lipica which gave the horses their name. Lipizzan breed dates back to the 16th century and its development was supported by Habsburg nobility. It is closely associated with the Spanish Riding School of Vienna where the horses are trained using traditional methods based on the principles of classical dressage. The rescue of the Lipizzans during World War II by American troops was made famous by the Disney movie Miracle of the White Stallions. We have also seen an one hour performance.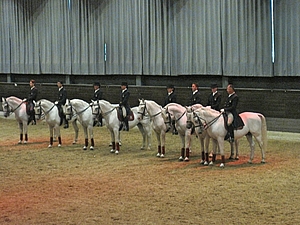 Excursion to Italy – Trieste and Duino Castle
Trieste
Trieste has a complicated history. It was at the end of 19th century the largest Slovene city, having more Slovenian inhabitants than even Ljubljana. It was incorporated to the Kingdom of Italy in 1918 following the First World War. After being ceded from the multi-ethnic Austria, Italian lower middle class — who felt most threatened by the city's Slovene middle class — sought to make Trieste "città italianissima", committing series of attacks on Slovene shops, libraries, lawyer offices, and the central place of the rival community in National House (set on fire in 1920). Forced Italianization followed and by the mid-1930s, several thousand Slovenes, especially intellectuals from Trieste region, emigrated to the Kingdom of Yugoslavia and to South America.
After the Second World War Trieste became a capital of the Free Territory of Trieste, staying for nine years under Allied military administration, similarly as West Berlin. This culminated in 1953 into "the Trieste crisis", a tense dispute between Yugoslavia and the Western Allies over the eventual Yugoslav-Italian border. However, following the 1954 London Memorandum, Trieste was annexed by Italy. The issue of the status of Trieste was finally settled only by the Treaty of Osimo signed in 1975 by Yugoslavia and Italy which definitely divided the Free Territory of Trieste between the two states. Port of Trieste remained Italian but today it has acquired cosmopolitan features again. We were present to preparations of Barcolana, a historic international sailing regatta.
Piazza of Italian Unity in Trieste is one of the largest squares at the seaside in the world. It contains the Art Nouveau government building and two buildings of the major insurance companies the Assicurazioni Generali and the Lloyd Triestino. It was a witness of many historical events that shaped the lives of inhabitants of the city and beyond (the remains of Archduke Franz Ferdinand and his wife Sophie landed at the quayside of this square 1914, Mussolini presented his horrible anti-Jewish speeches 1938 etc.). Local people were sitting around in various cafés - I liked two dark young men with black spectacles concentrated on their mobile phones who looked as if they were heroes of mafia movie.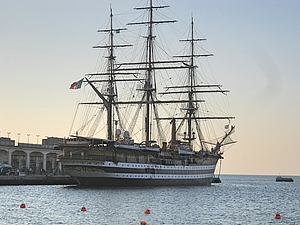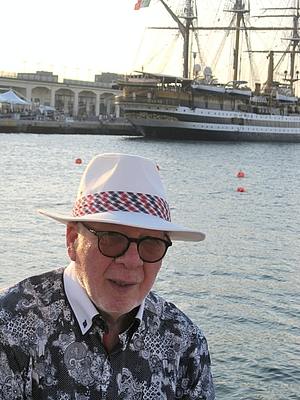 Duino
We visited Duino castle because of its connection to Thurn und Taxis noble family which enabled to various artists to create here. Thanks to the hospitality of Marie Thurn und Taxis Rainer Maria Rilke lived in these impressive surroundings and was inspired to his Duino Elegies which he dedicated to her. By the late 19th century, Duino with its scenic views had become a fashionable seaside resort, with many illustrious guests which included Emperor Franz Joseph I of Austria and Empress Elisabeth (Sisi), Archduke Franz Ferdinand, a famous Italian actress Eleonora Duse, composer Franz Liszt, writers Paul Valéry, Mark Twain and Victor Hugo and many others.
Two most famous Slovenian personalities -
France Prešeren and Giuseppe Tartini
Poet France Prešeren (1800 – 1849) is the greatest Slovene classical poet. In 1989, one strophe of his Zdravljica was declared the national anthem of Slovenia (the poem has a lot of stanzas), his image is on the Slovenian two-euro coin. The highest Slovene prize for artistic achievements, the Prešeren Award, is named after him. His statue is prominent on the main square in Ljubljana.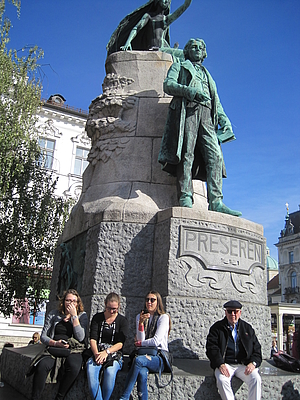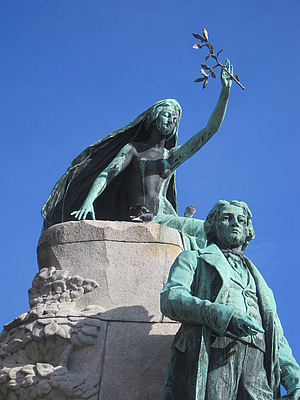 Zdravljica - A Toast – Slovenian national anthem
God's blessing on all nations,
Who long and work for that bright day,
When o'er earth's habitations
No war, no strife shall hold its sway;
Who long to see
That all men free
No more shall foes, but neighbours be.
The Slovenians are justly proud that their most important monuments are dedicated to intellectuals, not to generals or politicians. They also make a point that their anthem is wishing good to all the neighbours. It is funny that in the English subtitles accompanying the Slovenian anthem on internet it starts with the first verse of the poem which is extoling the end of the wine harvest (which of course is not a part of the anthem). The Slovenians do not seem to mind, they are anyway of the opinion that their wine is the best in the world. We had a chance to taste very good wines during our stay, our most favourite was local Pino Grigio, which is called in Slovenia only Pino, but its taste is excellent.

The vintage, friends, is over,
And here sweet wine makes, once again,
Sad eyes and hearts recover,
Puts fire in every vein,
Drowns dull care
Everywhere
And summons hope out of despair.
Guiseppe Tartini (1692 – 1770) – composer and violinist – his statue had been erected on the main square of Piran where he was born. He studied law at the University of Padua. After his father's death in 1710, he married Elisabetta Premazore, a woman his father would have disapproved of because of her lower social class and age difference. Unfortunately, Elisabetta was a favorite of the powerful Cardinal Giorgio Cornaro, who promptly charged Tartini with abduction. Tartini fled Padua to go to the monastery of St. Francis in Assisi, where he could escape prosecution. While there, Tartini took up playing the violin.
A legend has it that when Tartini heard Francesco Maria Veracini playing violin in 1716, he was very much impressed and at the same time dissatisfied with his own skill. He fled to Ancona and locked himself away in a room for many days just to practise. By that his skill improved tremendously and, in 1721, he was appointed Maestro di Cappella at the Basilica di Sant Antonio in Padua with a contract that allowed him to play for other institutions. His most famous work is the "Devil's Trill Sonata", a solo violin sonata that is difficult to play even by modern standards. (for those interested – played by Vanessa Mae https://www.youtube.com/watch?v=XlO87SiSuek). Tartini was the first known owner of a violin made by Antonio Stradivari in 1715. In 1726, Tartini started a violin school which attracted students from all over Europe. Gradually, he became more interested in the theory of harmony and acoustics and from 1750 to the end of his life he published various treatises. He died in Padua.
Link to 10 contemporary brilliant Slovenians (who are not Melania Trump) - the Slovenians are a little bit upset that their beautiful country should be known only because of her)
http://www.ramblingdays.com/slovenians-not-melania-trump/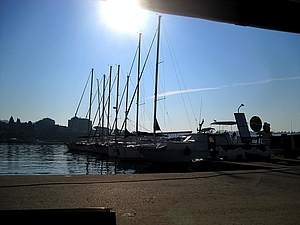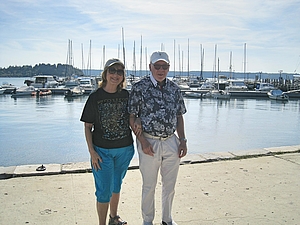 The End of the Season - Das Ende der Saison (song by Reinhard Mey)