TROPICAL PARADISE GOA – AND WHY WE PLAN TO SPEND EUROPEAN WINTERS THERE
Goa is the smallest Indian state located in the west of India in the region known as Konkan. The official locally spoken language is Konkani, but Marathi can also be used. Some older people still speak Portuguese and are proud of their Portuguese heritage, but because of the developed tourism, many Goans speak English as well. The capital of Goa is Panaji (earlier Panjim), the largest city Vasco da Gama and the town with strongest Portuguese influence is Margao. Goa is considered to be the richest state of India mainly due to its beaches, tropical vegetation and world heritage architecture which attracts a lot of visitors. Other means of making livelihood are till today fishing and agriculture.

Fishermen returning from the sea
History. All influences are mixed up in the history of Goa. The first recorded empire was Maurya Empire ruled by the Buddhist Emperor Ashoka of Magadha. For the next 700 years Goa was ruled by the succession of various Hindu dynasties. In 1312 it came under the governance of Delhi Sultanate, but the grip of the Sultan on the region was weak - he had to surrender to Vijayanagara monarchs who made attempts to advert the Islamic invasions. Those lasted until 1646 although their power declined after a major military defeat by the Deccan sultanates in 1565.
At the end of the 15th century, Vasco de Gama discovered a new route to India and Goa became an ideal base for seafaring Portuguese and their trade with spices. At the beginning of the 16th century (1510) the Portuguese defeated the ruling Bijapur Sultan and set up a permanent settlement in Velha Goa (Old Goa). They also spread Christianity and consolidated various legacies implanted into the region – this was a golden period for Goa. In 1843 the Portuguese moved the capital from Velha Goa to Panjim. The rule of Portuguese lasted until 1961 (nearly 450 years) when Goa was annexed by India. After India gained independence in 1947, it started negotiations with Portugal about Goa to be ceded to India. Portugal was governed by dictator Salazar (prime minister of Portugal from 1932 – 1968) who was determined to keep the overseas territories based on his belief that Portuguese with their policy of miscegenation and luso tropicalism were better colonizers than anybody else (especially better than British or French) as they were supposedly bringing welfare, progress and order to the population of their colonies. After the negotiations failed, the Indian army took Goa by force in 1961 (none of the Portuguese allies moved a finger to intervene, although Portugal was a member of NATO). At the same time British and French started to give the independence to their colonies in Africa "voluntarily" (most of them became independent in the sixties). In the next decade, nationalist movements in other Portuguese colonies like Angola, Mozambique, Cape Verde, Sao Tomé e Principe and Portuguese Guinea were also strengthening until declaration of independence, which they gained only in the seventies.
Religion. Opposite to the popular belief, out of the total Goa population of about 1 million and half, Christians make only 26%, Hindus cca 66%, Muslims 7%. The rest are Sikhs, Buddhists, Jains or other religious communities. The melting pot of religions is contributing to the charm of the place as all religions live at peace, at least most of the time.
Our relation with Goa is of an old date. We spent the millennium New Year´s Eve 1999 with all family at the Fort Aguada admiring the fantastic fireworks. At that time we were accommodated in a villa of a well known Goan writer who preferred at the moment life in Mumbai. Two years later we reached again for the end of the year celebrations and enjoyed the facilities of the complex Louise by the Sea. When India became our new home, we were visiting Goa from time to time and stayed in various hotels until we decided to buy ourselves a house in this tropical paradise. The descriptions below are partially taken over from internet, but we can confirm them fully from our own experience.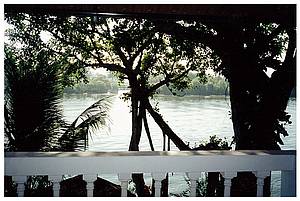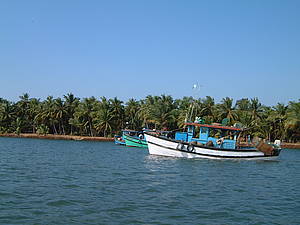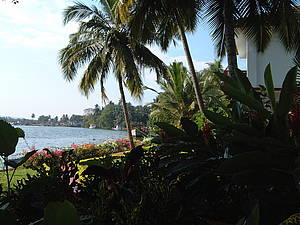 Why is Goa so attractive?
First - the beaches. There are two types of beaches in Goa, the busy ones in North Goa and the quiet ones in South Goa, both parts separated by the river Mandovi. All Goan coast measures around 100 km and 83% of it are beaches. This means that there is a space enough for everybody – the coast is not a narrow strip of sand, gravel or stones as some of European seaside – beaches are extensive in the length and the width as well and enable seemingly endless walks, bicycle tours or horse rides without feeling obstructed by other visitors. If you want, you can stay alone on the beach, if you prefer company, you can go to one of the many shacks on the beach and you will certainly find a company.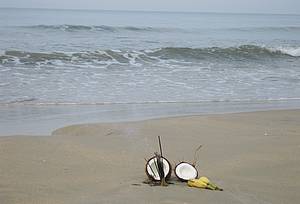 There is always a question our friends ask – shall we stay in the North or South Goa? North Goa is known by its discotheques and boisterous beach parties, but has a worse reputation if you want to spend a restful holiday. South Goa can also offer many beach facilities and restaurants, but will not be suitable for real party animals. A compromise would be the best – find your accommodation in the middle of Goa – and you can enjoy the best of both (remember, Goa is a small state and everything is within an easy reach) – e.g. accommodation near the beaches Majorda or Betalbatim (Sunset Beach) in the district Salcette might be the ideal choice (the districts are called talukas in konkani).
Second - Flora, fauna, natural beauty. Besides typical huge cocoanut groves, mangoes, cashew nut trees and bananas and pineapple plantations all tropical variety is to be seen in Goa. The colorful gardens feature bougainvillea (hibiscus) and frangipani, the ponds are full of water lilies. Beautiful butterflies like glassy tiger are not only flying around, they have also their conservatory. "Mystic Meadows", a conservatory for Bees, Birds and Butterflies, is situated in Ponda near Sahakari Spice Farm and Tropical Spices Plantation in Ponda. Around 130 species of butterflies have been photo documented at the area of 4000 sqm. The next colorful species of Goa are birds, be it strikingly blue kingfisher, woodpecker with an impressive crown, parrots, minas (starlings) and many water birds. Bird watching is one of the favourite past time of some visitors and can be organized.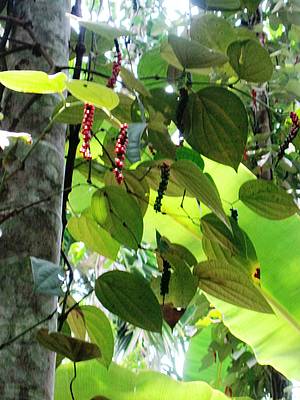 Goa has more than 50 species of animals (mammals), unfortunately, or maybe better to say fortunately (depending on the point of view) most of them live in the deep forests in the ghats: predators like hyenas, jackals or wild dogs, cats like leopard, further bisons, boars, deer and others. Monkeys (macaque, langur) and squirrels can easily be seen all across Goa. Goa has a large reptilian/amphibian population, our most favourite is house gecko who is living behind the pictures and catching mosquitoes in most places where we lived. If you walk in the grass it is better to beware and search the space in front of you with a stick – there might be cobras (including king cobra) and vipers lying in the sun there, but also a variety of nonpoisonous snakes. Two species of crocodile are mostly found along the banks of a few inland waterways. Freshwater and rare marine turtles which belong to endangered species also in Goa can be observed laying their eggs in the sand between October and December. Long-beaked dolphins are often seen in the shallow waters of Goa's more isolated beaches.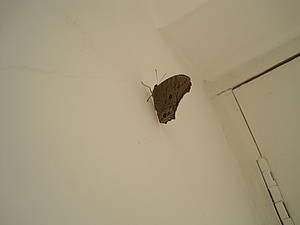 Dudhsagar Waterfalls. These waterfalls are located on the Mandovi River on Goan border with Karnataka State, in the Bhagwan Mahavir Wild Life Sancturary. They obtained their name because the cascading waters appear like milk (doodh means milk in Hindi). The legend has it that the milk was spilt into the falls by a beautiful princess who wanted to avoid that a prince could see her naked in the transparent water. As most waterfalls, it is most impressive in after monsoon months, meaning in October. At the base of waterfall there is a small pond where it is possible to take a romantic bath with fish if you do not mind that water is very cold. The total height of the waterfalls is 310 meters and the average width of 30 meters.
Third – churches, forts, museums
Velha Goa is a UNESCO World Heritage site situated approximately 10 km from Panaji. The city was constructed in the 15th century and served as capital of Portuguese India until it was abandoned completely in 1835 due to repeated epidemics of plague, cholera, malaria and other diseases. However, during the 18th century, it used to be the most beautiful town in Asia, compared with Rome ("Rome of Asia"), Amsterdam (because of its wealth and trade) and Lisbon (because of its marvelous churches and convents) by various enchanted travelers of that time.
Sights in Velha Goa
Archeological Museum and Portrait Gallery

Churches and Convents: The most comprehensive group of churches and cathedrals built during 16th to 17th century comprise of the following: Sé Cathedral de Santa Katarina, Basilica de Bom Jesus, Church and Convent of St. Francis of Assisi, Chapel of St. Catherine; Church of Lady of Rosary; Church of St. Augustine.
Sé Cathedral de Santa Katarina. It was built between 1562 - 1619 in Portuguese - Manueline style to commemorate the victory of Portuguese over a Muslim army on the feast of Saint Catherine 1510. It belongs to Roman Catholic Archdiocese of Goa and is the seat of the Patriarch of the East Indies. It originally had two towers but one collapsed in 1776 and has never been rebuilt. There is a large "Golden Bell" with a rich sound inside, one of the largest and best sounding ones in the world.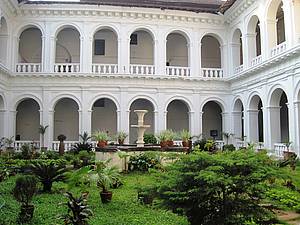 Sé Cathedral
Basilica of Bom Jesus. Bom Jesus is the name used for the infant Jesus in Portuguese. This Jesuit church was the first minor basilica in India and is one of the best examples of baroque architecture being a landmark in the history of Christianity because it contains the body of St. Francis Xavier, a very close friend of St. Ignatius Loyola with whom he founded the Society of Jesus (Jesuits). Francis Xavier died on Sancian Island en route to continental China in 1552. His body was first taken to Portuguese Malacca and two years later shipped back to Goa. The mausoleum, on the top of which is placed the silver casket with the body of St. Francis Xavier (1696), was the gift of the last of the Medicis, Cosimo II, the grand Duke of Tuscany. The public viewing of the body is held every 10 years (last time 2004).

Basilica of Bom Jesus
Church of St Francis of Assissi. The Church of St Francis of Assisi is no longer in use for worship, and consequently looks deserted and mournful. It used to be a small chapel built by eight Franciscan friars on arrival in 1517. It was subsequently rebuilt in 1661, but the old original doorway in ornate Manueline style was incorporated into the new structure. Maritime themes can be seen in the church – among others, navigator´s globes and coats of arms which adorned ships´sails.
Museums:
The Goa State Museum in Panaji has 14 galleries (including sculpture, Christian Art, Religious Expression, cultural anthropology, contemporary art, furniture and numismatics)
The Science Centre. Located on Miramar Beach, Panaji, it spreads over 5 acres of land and has a huge outdoor park with lush green lawns and exotic flowers. Besides experimenting with the interactive exhibits for all ages inside, all visitors can also walk through the park whilst learning and interacting with the large exhibits along the way. The centre can boast with auditorium showing science films, cyberlab and two thematic galleries Fun Science and Science of Oceans.
Forts. The landscape of Goa is dotted with several forts, Fort Tiracol, Chapora Fort and Fort Aguada most prominent among them.
Fort Aguada was constructed at the beginning of the 17th century by Portuguese to protect the coast against the Dutch and the Marathas. It also provided water supply to the ships that used to stop by – "aguada" means in Portuguese "watering place". A four storey lighthouse is the oldest of its kind in Asia. The land around the Fort is now owned by the Indian Hotels Company with a luxurious five star hotel Vivanta by Taj (Tata Group).

Fort Aguada - views from Vivanta hotel
Fourth – the food. The Goan cuisine has a specific flair. Original Goan tastes are based on seafood, coconut milk and rice and are full of exotic spices combined with Hindu vegetarian cuisine and 450 years of Portuguese influence.
If you like fish, fruit de mer and vegetables, it is the right place for you. There are various ways how to enjoy Goan food. It starts on the beach where you can go for lunch to one of the numerous shacks and make a choice of fresh fish or king prawns just caught by the local fishermen in the morning.

Shacks on the beach
Or you can go to one of the 5-star hotels where the food will be served to you on fine china and silver whilst you observe the sunset in an exclusive ambiance. Or you can choose one of the renowned local restaurants which is the middle way regarding the pricing but not necessarily a compromise to the quality. One of our favorite ones which in between already made it to the websites of many travel agencies is the Martin´s Corner. It is the place where you can meet not only tourists, but mainly locals, in a relaxed atmosphere with a band or karaoke. Whatever choice you make - sea food dishes like butter garlic prawns, pomfret curry rice or lobster piri piri, or variety of Hindu dishes like Paneer Tikka Masala or Tandori Chicken – everything tastes excellent. And that is only one example among the little family restaurants where it is possible to spend an enjoyable evening, accompanied either with the local Indian wine (coming mostly from Nashik vineyards) or a tropical cocktail.

Martin´s Corner
Fifth – sport, entertainment, shopping. It is possible to be very active in Goa. Logically most activities are connected with water – swimming, diving, snorkeling, scuba diving, para sailing, surfing and wind surfing, jet skiing, water skiing, banana rides, or even white water rafting (on the Black River in the country interior). You can also ride on the elephant and make walking excursions.

Riding elephant through the spice gardens

Planning your trip to Goa in the time of various religious festivals makes it more lively. Besides the Christian festivals, e.g. Feast of St. Francis Xavier, Bonderam (floats festival) on the island Divar, or Good Friday processions you can also enjoy Hindu festivities, like Dussehra, Diwali and Ganpati (the festival of the elephant god Ganesha). Here is a webpage which gives the most detailed information: http://www.goacom.com/art-culture/115-religions-and-festivals

Elephant God Ganesha

And how is it with shopping? The exotic stuff is most easily and advantageously purchased at the famous market areas, Mapusa and Anjuna. The Friday Market at Mapusa, is the most popular, selling everything from curiosities to old coins, from dried fish to spices. The Wednesday market at Anjuna Beach started by and for foreigners (originally by hippies for other hippies) remains an extremely lively spot where souvenirs, beachwear, trinkets and handicrafts are sold at bargain prices – bargaining is of course a part of it.

Anjuna Beach Market