French Polynesia – Tahiti – Bora Bora - Moorea: a dream which came true
French Polynesia (Polynésie française) is an overseas country (pays d'outre-mer) of France made up from 118 islands with total area approximately as Europe. It consists of 5 archipelagos, the best known island is Tahiti in the Society Island Group which is also the most populous island and the seat of the capital Papeete. Tahiti is situated around 7800 km west from coast of Peru and 3800 km from northeast coast of New Zealand – basically it is the most remote place on the world where you can fly.
History
The isolated Society Islands – of which French Polynesia is a part - were among the last places on earth to be settled by humans, and only more than thousand years later discovered by Europeans. (from Europe, you would spend around 34 hours on the plane – net time, we had 10 hours less as we started from Mumbai).
Thor Heyerdahl, a Norwegian hero of my childhood, tried to prove that the original population came from South America and did manage to get his raft Kon-tiki from Peru to Polynesia, but this theory has been dismissed by most scientists these days. Most of them believe now that the early Polynesians loaded chicken, dogs, pigs, vegetables and kids into canoes and sailed from Taiwan or Southeast Asia. They used celestial navigation, read the directions from cloud reflections, wave formations and bird flight patterns until they found islands in the vast Pacific which were blessed with fertile soil and most pleasant climate and where they could create their own society and religion.
The Europeans discovered the islands only around one thousand years later. The first European who reached Tahiti was Samual Wallis on his ship Dolphin. Initially the arrival of Dolphin was greeted with fascination as hundreds of canoes surrounded the ship. But when Tahitians (including number of beautiful girls) saw the crew, looking like criminals, suffering from scurvy and just about surviving months at sea in cramped quarters, their fascination turned to fear and they attacked the Dolphin. Wallis retaliated by firing and killing many Tahitians and destroying their canoes and homes. However, in the end the trade relationship developed somehow: the crew was desperate for fresh supplies and the Tahitians who have not discovered metals yet, were happy to receive knives, hatchets and nails in exchange.
Whilst the Dolphin was on her way back to Europe, French Louis Antoine de Bougainville arrived on Tahiti. He had no unfriendly clashes with the Tahitians and it was him who spread, after return to Paris, the information about "Venus-like women with the celestial form of that goddes" and of the people´s uninhibited attitude towards sexual matters. The next explorer, Captain Cook, made his first voyages to Tahiti to observe and record the transit of Venus, but the equipment of the time was not sufficiently accurate for the job.
The famous story connected with Tahiti is the Mutiny on the Bounty – Fletcher Christian sets Captain Bligh adrift in a small boat and then returns to Tahiti (made to a film three times).
The explorers were followed by missionaries, the London Missionary Society promoting protestant religion was fighting for influence with French Catholic missionaries who prevailed in the end, mostly because they managed to influence (read to bribe, unfortunately mostly with alcohol) the king´s dynasty Pomare.
Modern history
In the 20th century the name of Bora Bora became known because the Americans used it as a military base to supply their troops in the Pacific after Japanese attack on Pearl Harbour. But Bora Bora was fortunately never attacked. After the 2nd World War, French Polynesia continued to be a valuable strategic port for the French. Trading with vanilla, cotton, copra, mother of pearl and black pearls was also of importance. Unfortunately the French also misused some of the atolls for their nuclear atmospheric tests. Only in 1981, seventeen years after the USA, Britain and USSR agreed to halt atmospheric testing completely, the French drilled bomb shafts and moved the tests undergound. In spite of protests in Polynesia and all over the world, the final round of underground tests was concluded only 1996.
21st century: Gaston Flosse who has been president for 20 years lost presidential elections in 2004 to Oscar Temaru who supports total independance of Polynesia. In the following four years the government changed seven times mostly between Flosse and Temaru - the country has been in political upheaval ever since. 2008 Gaston Tong Song was elected president, but his majority power remains unstable.
However, most of the Polynesians are aware that it would be difficult to survive without France which is pumping money into the islands (French Polynesians are members of European Union, although the currency is Polynesian Franc, not Euro). Not only that the islands have no industry worth mentioning but also farming is very little developed – in the middle of the most islands are high mountains and the coast is suitable for fishing and tourism, but not for crops (with the exception of tropical fruits like bread fruit, pineapple, banana etc.).
The life style on the islands is governed by a slogan haer maru (take it slow). The traditional Tahitian family is still the country´s backbone. Babies, also adopted ones or out of the lock, are considered to be blessing and are certainly taken care of by an eager, infant loving family member. Who would expect a society of promiscuity and free love, would be disappointed, but Polynesians are tollerant of various sexual ways. Homosexuality is viewed as a natural part of human existence and mahu, men who dress and live their lives as women and work, as we could see, very often as waiters in restaurants, are generally accepted. Tahitians are also tolerant of the many races and cultures that have arrived at their ports. Three dominant cultures remain European, Tahitian and Chinese (5 %), but in between also so called demi, those of mixed Polynesian-European and Polynesian-Chinese descent occupy some of the most important positions in public life.
Everything we have heard of and much more was really there - see below the highlights with pictures:

01 Music – ukulele and drums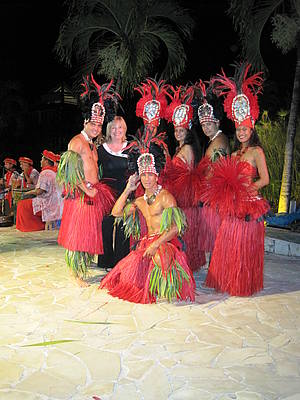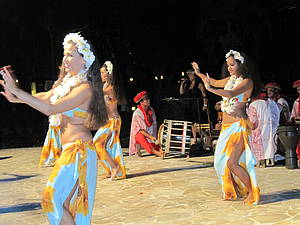 02 Dancing – a classic dance is called otea – fast gyrating hip action for women and scissor like leg movement for men

03 - Polynesian Wedding - preparation on Morea Island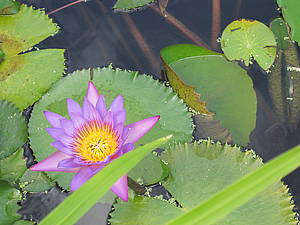 04 - Flowers everywhere, flower garlands ( especially beautiful when made from white nicely smelling flower called tiare, handed over on arrival to all guests in a welcome ceremony)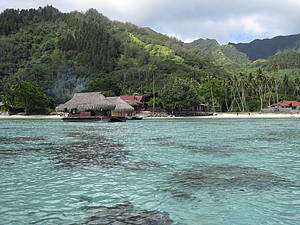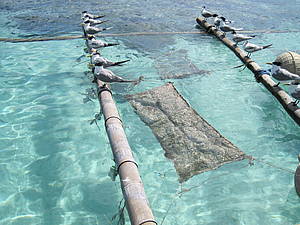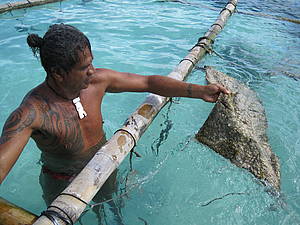 05 - Black pearls – visit of pearl cultivation station in the sea - since centuries used in an exclusive jewelery



05a - Pearl Jewelery

06 - Tattoos - some of them amazing, belonging to the culture



07 - Clear blue lagoons, crystal clear water with most colorful fish swimming all around – we could watch them every morning from the restaurant on columns during the breakfast


08 - Diving in a submarine

09 - Picaresque mountains of volcanic origins

10 - Overwater bungalows with steps leading directly to the sea and glass floors


11 - Vanilla plantations

12 - Green turtles which we could feed (endangered species – program supported by Le Meridien)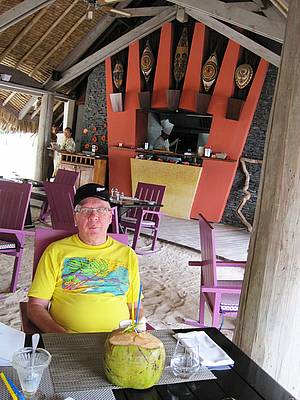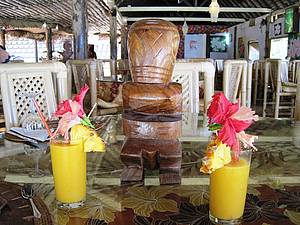 13 - Fresh fruit & coconuts


14 - attractive young women decorated with flower wreaths – already pictured by Paul Gauguin whose museum we have visited



15 - Marae – the original sacred places dedicated to local gods – usually in the tropical forest

16 - Many artists living around
Holiday schedule:
New Zealand, French Polynesia, Singapore, Bangkok
September - October 2011
26th September – departure by car from Nashik to Mumbai, staying overnight in the flat
27th September – Mumbai – Singapore – Singapore Airlines SQ 0421 - 11.50 – 19.45 (duration 5.25
hours)
27th September – Singapore – Auckland Singapore Airlines SQ 0285 – 21.05 – 11.45 (duration 9.40
hours)
27th September – 29th September – stay in Auckland hotel Hilton
27th September – meeting Nick Kerr 16.30 to be collected from Hilton, mobile 0064 27 232 6167
29th September – departure by car to Rotorua – rented Hertz Auckland Downtown - 154 Victoria Street
29th September – 1st October – stay in Rotorua - hotel Rydges
1st October – departure by car to Waitomo Village
1st October – 2nd October – stay in Waitomo Caves Hotel
2nd October – departure by car to Auckland
2nd October – departure Auckland – Papeete – Air Tahiti Nui TN 102 15.15 – 21.10 (duration 4.55)
1st October – arrival Papeete Tahiti
1st October – 9th October - stay in hotel Le Meridien Tahiti (8 nights)
9th October – departure Tahiti – Bora Bora Air Tahiti 424 - 15.05 – 15.55 (duration 50 minutes)
9th October – 16th October – stay in Le Meridien Bora Bora (7 nights)
16th October – departure Bora Bora – Tahiti(Motu-Mute/Faa) Air Tahiti 412 – 11.25 – 12.15
16th October – departure Papeete – Auckland – Air Tahiti TN 2101 17.15 – 22.20 (duration 6.05 hours)
17th October – arrival Auckland (22.20)
18th October – departure Auckland to Singapore - Singapore Airlines SQ 0282 00.50 – 6.40 (duration
10.50 hours)
18th – 19th October – stay Singapore hotel Marina Mandarin, 6 Raffles Boulevard, Marina Square
Singapore 039594 T: (65) 6845 1188, meeting Dr. Sujit Ghosh for dinner time
19th October – departure Singapore – Bangkok Thai Airways TG 410 20.50 – 22.10 (duration 2.15 hours
19th October – 23rd October – stay Bangkok - hotel Four Seasons, 155 Rajdamri Road, Bangkok 10330, Tel: +66 2 251 6127, http://www.fourseasons.com/thailand
19th – 21st October – Asian Marketing Forum Holcim
21st – 22nd October RMX Holcim meeting
23rd October – departure Bangkok – Mumbai TG 0317 18.45 – 21.55 (duration
23rd October – staying overnight Mumbai flat
24th October – departure from Mumbai to Nashik 10.00 a.m.