Bombay 1970 - Mumbai 2013
History. The area of today´s Mumbai was an archipelago of seven islands, which were controlled during centuries by various successive Hindu dynasties. The Muslim rulers of Gujarat annexed the islands in 1348 (Gujarat Sultanate lasted from 1391 – 1534) but they were worried about the increasing power of Mughal emperors under Mughal Humayun and therefore asked the Portuguese for protection. They signed with them a treaty of Bassein according to which the seven islands of Bombay and the town of Bassein were surrendered under Portuguese rule. The Portuguese started to support the growth of Roman Catholic religious orders, built many churches and completed fortification. The British were with them in constant struggle because of the strategic position of Bombay. However, the disputes were settled in 1661 when Charles II of England married daughter of King John IV of Portugal Catherine of Braganza, and received Bombay as Catherine´s dowry.
Charles II transferred Bombay to the British East India Company by Royal Charter in 1668. The British East India Company established the mint and printing press in Bombay and developed the islands into a centre of commerce. The attack by the Dutch in 1673 was resisted and finally in 1674 the Treaty of Westminster concluded between England and Holland relieved the British settlements of further Dutch threats.
Another threat to the British rule in Bombay were Marathas whose empire existed in the region from 1674 – 1818. They led three Anglo-Maratha Wars against the British, until they were defeated in 1818 which left British East India Company in control of most of India. 19th century was time of huge educational and economic progress for the city. The seven islands were merged into one forming so called Old Bombay and many prominent projects were completed: Bank of Bombay, Grant Medical College, University of Bombay, first-ever Indian Railway Line between Bombay and Thane, Victoria Terminus, tramway communication, Bombay harbor, Victoria Gardens and many cotton mills as a first extensive industry.
In the 20th century Bombay became an important port for British in World War I as well as in World War II. The city saw large movement of troops, supplies, arms and industrial goods. After the end of the Second World War, the nationalist Indian movements required independence and obtained it in 1947. The last British Infantry Battalion passed through the arcade of the Gateway of India on 28th February 1948.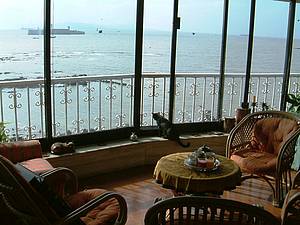 At the Seaside
The population. According to the census 2011, the population of Mumbai was around 13 million, but unofficially the number must be at least double of that. There is an estimated number of 9 million slum dwellers among Mumbaikers. Opportunities of the city attract migrants from all over India making it a melting pot of many communities and cultures. There are churches, mosques, temples, synagogues and Jain temples next to each other.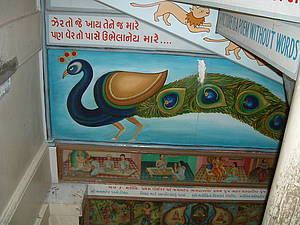 Jain Temple

Haji Ali Dargah - Mosque in the Sea

Old Hindu Temple
The city belongs to the most expensive ones in the world. The prices of real estate – even small flats to be either purchased or rented – are high, the same as the rates of hotel rooms of good quality. However, the first class hotels in Mumbai are the only oasis of tranquility, often inspired by antique palaces of moguls and maharajas.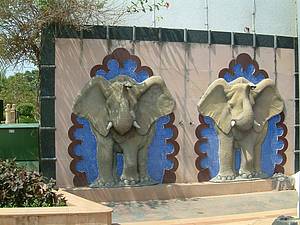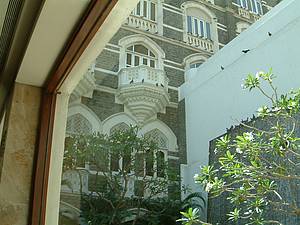 Hotel Leela (reception), hotel Renaissance (elephant showers), hotel Taj Mahal (courtyard)


Wealth and poverty. The most shocking thing in Mumbai are the contradictions between unbelievable wealth and poverty. Of course, unequal distribution of wealth can be seen in most of the cities of the world, however, nowhere in such an imminent proximity. The luxurious suites of hotel Leela or Hyatt are situated next to the slums which appear in big numbers like mushrooms. Indian Government made some attempts to resolve the problem, but it is so complex that nobody knows exactly how to sort it out. Slums are spreading at large areas, therefore government decided to give the slum land to developers under the condition that they would first build houses for slum dwellers who should be moved from their huts without sanitation into decent housing. The rest of the land could be then used by developer for commercial purposes. As the land is extremely expensive in Mumbai it was assumed that it could work, the idea was applauded in other countries and even called "Mumbai Model". But it did not work. The houses where the poor people were moved to were highrise buildings. Of course, they needed maintenance and the problem who will take care of it and pay for it was not given a proper thought. First the lifts stopped functioning and people had to walk up to the 20th floor. Then the sanitation system and water pipes started to break, the garbage accumulated in the corridors. Some of the slum dwellers were clever, they sold their flats which they received free of charge and moved on to create a new slum round the corner. The situation is complicated by the fact that these people cannot be moved to the outskirts as they would lose their source of livelihood – they have various menial jobs in the city, they are cleaning, serving, recycling waste materials, driving rickshaw. So the so called "Mumbai Model" for resolving the slum problem did not work in the end and an extreme wealth remains next to the extreme poverty side by side.
I have been in Mumbai for the first time in 1970. It is sad to see that although city has grown and developed very much, the pictures of poverty remain very similar nearly 45 years after.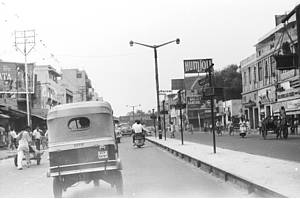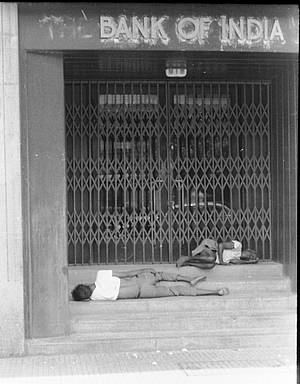 Street Pictures 1970
Life of the city is taking place mostly outside, in the streets. Many small stands sell the goods of everyday use and render various services including washing laundry, cleaning shoes, cutting hair or even pulling the tooth. The Indians do not mind monsoon and walk around also in the pouring rain of the monsoon months (June to September).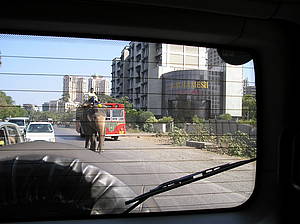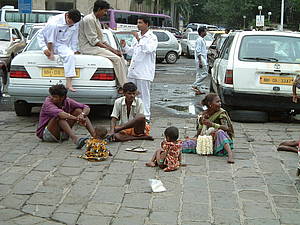 Street Pictures 2013
Infrastructure. Mumbai is bursting in seams. The Airport does not have sufficient capacity – a new check-in hall is just about to be finished. Public transport could not be more crowded – at the moment a metro system is under construction. The Mumbai Harbor is full of vessels from all over the world and has to clear much more goods than its capacity.
In 1970 we embarked from the Mumbai Harbor on a cargo ship for a ten-days cruise to the Iraqi port Basra. The captain of the vessel insisted that we should purchase a cabin, only later we understood that we probably would have not been able to survive on board. I revisited the port 40 years later on one of the rare occasions when we were loading big bags of Pozzocrete not in containers but directly onto the vessel as bulk. But nothing much rang the bell - the port has been completely changed.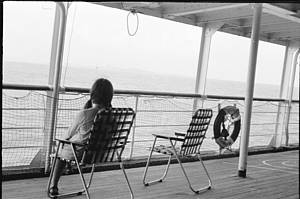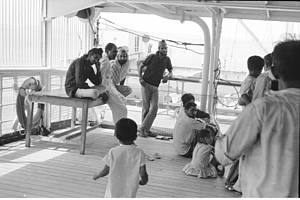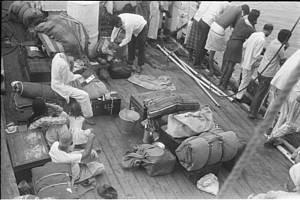 1970 - on the vessel leaving Mumbai port to Basra - Goodbye, India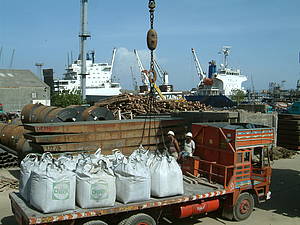 2010 - visiting Mumbai Port for Break Bulk Loading of Pozzocrete

There has not been much peace in Mumbai in the last two decades. Various political parties are trying to obtain the votes by igniting mood of population of Maharashtra against migrants of different religion. Leadership of the nationalistic party Shiv Sena is even agitating against Indians who are Hindus but coming from different regions of India. They pushed through the change of the name of Bombay to Mumbai in 1996 under the pretext that the old name is an unwanted legacy of British colonial rule. By that they also wanted to do away with the term Bollywood (a conflation of Bombay city and Hollywood), the designation of the one of the biggest movie industries in the world. However, the attempt to get rid of the name Bollywood and Bollywood itself did not succeed. Bollywood continues to prosper although it certainly remains a nest of vice in the eyes of Shiv Sena and others.
Violence in Mumbai. India is not keeping up to the legacy of Mahatma Gandhi whose main rule was non violence and passive resistance. The violence in the city increased especially after the demolition of Babri Masjid mosque in Ayodhya (state Uttar Pradesh) in 1992. The place is originally considered to be a birth place of Hindu God Rama, but Moghul Emperor Babur erected a mosque on the site in 1528. A fanatical crowd destroyed the mosque and as an aftermath more than 1000 people were killed in the Hindu-Muslim riots of 1992 – 93. In 1993 a series of 13 coordinated bombings by Islamic extremists and Bombay underworld resulted in numerous deaths and injuries. More than 200 people were killed and over 700 injured when seven bombs exploded on the city´s commuter trains in 2006. In 2008, a series of ten coordinated attacks by armed terrorists who were keeping their position for three days resulted in around 200 deaths, many injuries and damage to heritage buildings and prestigious hotels (Taj Mahal and Oberoi). In 2011, blasts occurred at the Opera House, Zaveri Bazaar and Dadar.
In the bombings of 2008, George had a narrow escape (it must have been thanks to his good karma). He was supposed to go to Mumbai for a court hearing and to stay overnight in Oberoi on that critical night. The court postponed the session from the morning to the afternoon session and therefore he decided to leave from Nashik only in the morning. Half way to Mumbai, the message came that all city was in chaos, courts, schools, governmental buildings were closed and that terrorists took over Taj and Oberoi where they were searching through the rooms and shooting guests. Taj Mahal, a landmark of Mumbai, one of the symbols of the city, was on fire, the reception bombed out. In the end, 9 terrorists, who supposedly arrived over the sea, were shot by police and the surviving one brought to justice. However, it took police and army couple of days to restore the order. Since then all major hotels in Mumbai are applying high security measures at the entry.

Hotel Taj Mahal - 1970, 2008
Mumbai is situated around 180 km from our main seat in Nashik. Sometimes we visit the city, mostly for business, when we fly to Europe or for entertainment. One of the Mumbai´s modern suburbs is called Powai. We have rented an apartment on 18th floor in one of its towers with a view at the Powai Lake. This quarter is a proof of speedy development Mumbai is undergoing, as there was only very little there 15 years ago. The first developer and builder Hiranandani was also one of the first customers who used our product Pozzocrete for improving the quality of concrete. Powai mostly consists of skyscrapers built in a historical architectural style reminding Roman, Greek or neo-renaissance buildings which we initially found odd for India but got quickly used to it. However, the quarter has been properly planned, there are pavements for pedestrians (which is not matter of course in Indian cities), so that walking and window shopping is possible, there are schools and hospitals. Many international food chains have their restaurants in Powai, the malls contain shops of all international brands.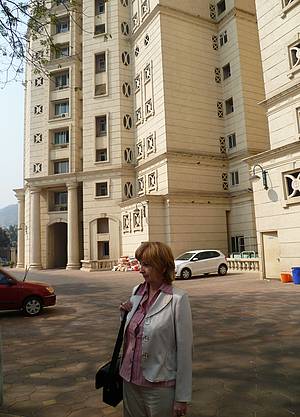 Powai Quarter, Powai Lake
In the boutiques of Powai the Indian fashion of high quality is being sold as well. Indian men wear the traditional gear mostly on festive occasions and otherwise they are fully dedicated either to jeans and T-shirts or western type suits. However, for a wedding, most bridegrooms would have a sherwani (a long coat or jacket elaborately embroidered in gold with a Nehru collar -standing up collar) accompanied with tight fitting pants or trousers (churidars). In this region of India most females still wear saris. This unstitched colorful strip of cloth of various length draped over body and accompanied with a short blouse leaves a naked back. Sari is a very feminine dress and even women who work hard on construction sites look pretty when they walk swiftly along the street wearing their saris. Of course, the saris of higher classes are made from silk and elaborately embroidered. Panjabi dress consisting of loose trousers (salwar) and tunik top or kurta (kameez) accompanied with dupatta (long shawl or veil) substitutes for many young women western type of clothing. Obviously, especially in Mumbai and other big cities, some women fancy the European fashion. However, it is very rare to see miniskirts or shorts – when I was in Mumbai in the seventies, an absolute majority of female students had mini dresses, which probably means that the society must have turned more conservative in regard of clothing in the recent decades.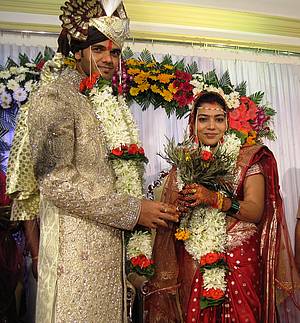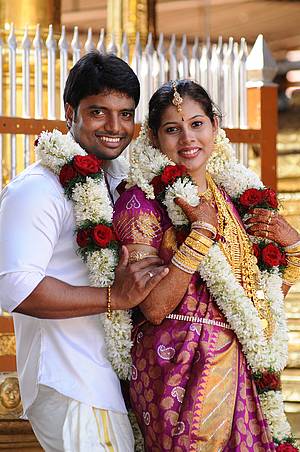 Buying Indian dress, Indian colorful wedding fashion


Sightseeing
The main symbol of Mumbai remains the already mentioned Gateway of India together with the vintage hotel Taj Mahal at the seaside.
The Gateway of India was built in Indo-Saracenic style during the British Raj to commemorate the landing of their Majesties King George V and Queen Mary when they visited India in 1911. It is a twenty six meters high basalt arch. In earlier times, it was the first structure that visitors arriving by boat in Mumbai would have seen, therefore it became, similarly to Statue of Liberty in New York, a symbol of the city.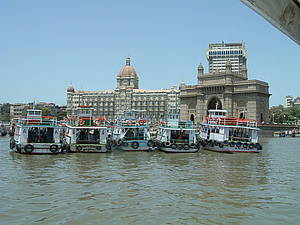 Gateway of India
Many interesting buildings were built and designed by British architects in the colonial era at the beginning of the 20th century, e.g. Post Office (with a characteristic cupola, completed 1904, built from black basalt with a dressing of yellow kurla stone and white stones from Dhrangdra), Mumbai Central Railway Station or Prince of Wales Museum (main museum in Mumbai in the middle of a garden with palm trees, built at the beginning of 20th century in Indo-Saracenic style with elements of Mughal, Maratha and Jain architecture.)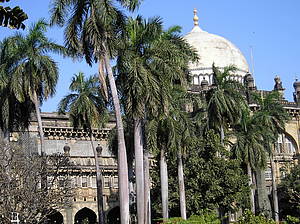 Railway Station, Post Office, Prince Wales Museum
One of the favorite excursion places is the Elephanta Island with the Elephanta Caves. They consist of five Hindu and two Buddhist caves. The Hindu caves contain rock cut stone sculptures dedicated to the god Shiva. The carvings have been dated between 5th to 8th centuries and belong to the UNESCO heritage.

Elephanta Island
An example of neo-baroque style architecture copied from Europe can be seen in the Ashok Mittal´s villa in Mandwa. We were invited by the European Business Group for a boat excursion over the bay which started from the Gateway of India. The villa transferred us to a completely different world - it presented another proof of contradictions to be seen in Mumbai.

Baroque in Mumbai
Summary. Sometimes we have wondered how the life in the city "which never sleeps" would be. If we were living in Mumbai instead of Nashik which of course could have been partially our choice, it would offer us all the cultural amenities including theatres in English, concerts of classical music and busy social life concentrated around the British High Commission. But there would be a price, as living in Mumbai means living in eternal noise and pollution, suffering never ending traffic jams, horribly overcrowded streets and an increased rate of criminality.
Also the everyday view of the mentioned contrasts between wealth and poverty must be first absorbed. On one hand the 27-storey high family house named Antilia belonging to the richest man in India Mukesh Ambani (the largest shareholder of Reliance Industries with personal wealth 21.5 billions USD) valued at 1 billion USD is supposed to be the most expensive home in history. There is lift for cars stopping in every floor, meaning that the car will bring you in front of the doors of your apartment. Every floor has a swimming pool. There are three floors of underground car garages to accommodate all the cars of the family and three helipads. If the taps in bathrooms are golden, I cannot say. On the other hand, in the close neighborhood there is a slum where people live in huts from corrugated sheets or just under a tarpaulin, with no sanitation, a lack of drinking water, who have electricity only when they steal it from the masts. That is a typical example of Indian contradictions which were also described in many interesting books about Mumbai, like Salman Rushdie´s Midnight´s Children, Vikas Swarup´s Slumdog Millionaire or Shantaram by Gregory David Roberts.

Mumbai Contradictions