Beautiful Sicily
We decided to have a vacation in Europe this year. George was in Sicily many years ago – he spent his first wages for a train journey to this island. I have never been there before, but I have always been excited by names like Etna, Taormina, Syracuse, or the mafia. Otherwise, I probably heard first about Sicily in my history classes when we discussed the Golden Bull of Sicily (it recognized the sovereignty of the Czech Kingdom and hereditary title of Bohemian kings in 1212. Premysl Ottokar I got it signed by Frederick II of the house of Staufer as a reward for his support in the fight for the imperial crown against Otto of Brunswick from the House of Welf. Frederick II. confirmed it by the seal of his Sicilian kingdom).
It is unbelievable that this island actually achieved some independence or better to say autonomy, only after World War II (1946), after being ruled by various nations for nearly 3,000 years. In the centuries before Christ the island was dominated by the Greeks, Phoenicians, Carthaginians. Then the Romans came. After the break-up of their empire by Vandals and Ostrogoths (who also ruled Sicily for cca 200 years), the Byzantines came (6th Century AD). They were followed in the 9th century by the Arabs, who introduced to Sicily citrus fruits, cotton and silk, pistachio nuts, date palms and sugar cane. In the 11th century Normans conquered Sicily. Their rule brought the most glorious period in Sicily's history, when it could be said to have most deserved Goethe's description as "noble, beautiful, and incomparable". They were replaced by the House of Hohenstaufen in the 12th century. The following Angevin (House of Anjou) did not last long, the French were very much disliked in Sicily for good reasons. However, it is horrible to read about murdering of French residents and their supporters, during the only real rebellion made by the Sicilians in 1282 which is called Sicilian Vesper. The dynastic struggle ended separating Sicily from mainland Italy and by the subsequent rule of Spanish Aragonese, House of Savoy, Hapsburgs and Bourbons. Sometimes it seems that it would be easier to name those who did not actually reigned in Sicily. The unification with mainland is owed to Garibaldi and his Red Shirts in 1861 but unfortunately life under the rule of House of Savoy did not bring any prosperity to the island. The mass exodus, especially to America, started. As the legacy of the variety of the rulers of the island, amazing diversity of cultural and architectural monuments has remained which makes it a desirable country to be visited.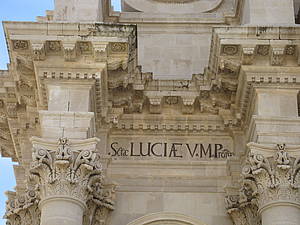 Neither the modern history of the island was peaceful. Mussolini's dictatorship put Italy on the side of Nazi Germany. Allies landed in Sicily in 1942. The process was facilitated by members of the mafia, which were prosecuted by Mussolini (many of them managed to flee to the US). As a reward for this help all mafia members were freed by Americans as political prisoners, and in addition, they attained the most important posts. This is how the mafia came to its influence and strength. In the 70s and 80s it became a strong murderous organization which stood in the way of further development of the island. At that time, for example, shooting in the streets of Palermo happened on a daily basis - but no one ever saw or heard anything. Until a few brave decided to say NO to mafia. It cost many lives - 1992 the prosecutor Giovanni Falcone, who specialized in investigating Cosa Nostra crimes, was assassinated. The imaginary scepter was taken over by the prosecutor Paolo Borselino, but he survived his friend only by two months (Palermo airport is called Falcone-Borselino). At that moment the Sicilians must have had really enough, because many of them broke the code of silence Omerta for the promise of impunity and a new identity. In the mid-90s of the 20th century, a number of mafia bosses finally got to court and to jail. Also recently, in 2014, local police arrested 94 members of the mafia. Mafia´s influence on society and on the political and economic life of Sicily is not over, but the mafia since long stopped to be all-powerful. The fertile ground for its activity has always been the instability of Italian governments that alternated in short intervals as well as its connection to political decision-makers - see controversial person of Giulio Andreotti, a lifelong politician and prime minister in the years 1972 - 1980 (1978 was the year when the Red Brigades kidnapped and killed Aldo Moro with Andreotti refusing to do anything to safe him). Our guide, a German lady who has been living in Sicily since 40 years, had also not a single good word for 12 years of Berlusconi's government. She was convinced that it meant an unmitigated disaster and that it threw the country backwards by years.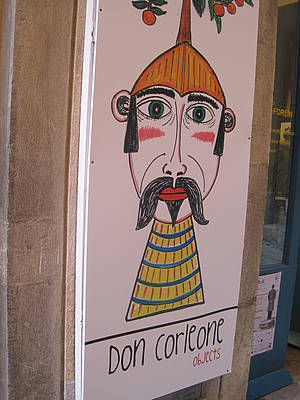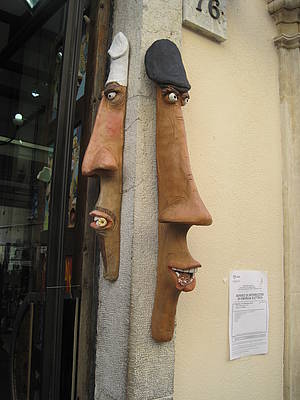 On our round trip of Sicily, we stopped and lived in 4 places: Giardini Naxos, a town next to Taormina, in the northeast, Palermo in the north, Agrigento in the south and Syracuse in the southeast. These towns were starting point for a variety of excursions. I should probably explain that it was for the first time when we booked a holiday with a group. It was organized by travel agency Studiosus. We expected from that a qualified explanation of history and culture by an expert and a carefree vacation. On the other hand, we were aware that we would have to adapt to the group in relation to the program and timing. But you can´t have it all. We have really learnt a lot. The good thing was that we could take photos, look around and listen to the explanations at the same time because each of us received a little earphone and the guide explained the sights via microphone. We could hear it all and did not disturb the others.
In terms of scenic beauty it was Taormina which I found most beautiful. Taormina has the advantage of being located on a high cliff from which it overlooks Giardini Naxos Bay (where we were staying). The town is full of fountains, narrow streets, balconies with decorative flowers, small restaurants and shops of all kinds, and ice cream cafés. The specialty of Sicily is so called granita, a sorbet (actually crushed ice) flavored with lemon or almond - it's really refreshing.
We also went to the opera, La Boheme by Puccini, which was staged in the Greek amphitheater of Taormina. The organization was a little in the Italian (or Sicilian) style. It was supposed to start at 21.15, but at that time the organizers only started to let the spectators (who created a large crowd in front of the closed gate) inside. So no one was surprised when the performance started at 22.00. With four intermissions between acts, it ended well after midnight. During the breaks various craftsmen bustled around with hammers and tried to nail the various props to prevent their falling. But the opera itself, at the background of old Greek columns, and without using a single microphone or amplifier was a real experience - the acoustics were amazing. There have always been some scandals connected with opera in Taormina, we were told. The guide told us that once the wind blowing from the sea suddenly brought the loud sounds of hard rock in the middle of the first act of La Traviata. The music of this rock band which played at the party of Berlusconi´s supporters on the beach completely drowned the orchestra. The horrified conductor stopped conducting and everyone stared. It took about an hour before it was resolved, a rock concert stopped (or was finished) and the opera could continue.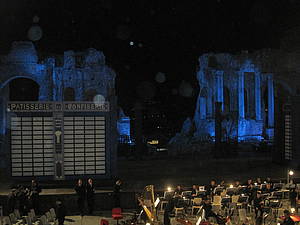 A symbol of Sicily is a tripod (three legs), in the center of which there is a head of Medusa. It is called Trinacria or triskelion (trinacria is also used in the coat of arms of the Isle of Man, but it has only three legs without a head). Medusa's head (some alternatively say that it is a woman with wings on the sides of her head) suggests links with ancient mythology. Legs represent running and speed, meaning change and transformation. In its original form, trinacria was a symbol of life, time and motion of all things. Its shape resembles another ancient symbol: Indo-European swastika. This symbol had a great value as a sort of talisman for the Greeks, Etruscans and Romans, they had it drawn on their helmets or shields, when they marched to the battlefield, it was also found on the urns.


Another important symbol of Sicily is certainly Mount Etna. We had a sunny weather, so we could admire it every day from Giardini Naxos bay. Etna seems to be addicted, it is a chain smoker, during our stay it was smoking all the time.
Then our bus brought us to the a height of 1900 m, we continued by funicular up to 2,500 meters and by off-road vehicles up to the height of about 2900 m. Only a small walk followed. It is the highest possible you can get to this so called southern crater (Etna has 4 craters, the highest of them 3329 m). Etna has always been very active and reminds people around about its existence every few years by eruption of lava, by spitting ash or by earthquakes. George did not forget to investigate properly the quality of fly ash which was lying around.

The 2003 eruption of Etna was filmed by Lucasfilm and integrated into the landscape of the planet Mustafar in Star Wars Episode III: Revenge of the Sith. The latest eruption happened in 2014. We have made an experience that we had always (so far, touch the wood) a narrow escape from natural and other disasters (to mention just a few - terrorist attack in Mumbai or our stay in Japan and Nepal), so it can be expected that also Etna starts to announce its presence again soon

. Visiting Mount Etna would not be complete without tasting wines that are grown on the lava below.

Catania has as a symbol a dark elephant with raised trunk, the statue of which is situated on the main square. Like many other surrounding towns, the city was almost completely destroyed by earthquake and eruptions of Mount Etna in the late 17th century. After that it was restored in the unifying style of so-called Sicilian Baroque. The most beautiful sights are baroque Basilica of St. Agatha, the patron saint of the city, the university and the colorful market. Naxos which lies north of the town, was the first place in Sicily colonized by Greeks at 733 BC.
Cefalu is located in the north on the road from Taormina to Palermo. It has a beautiful cathedral, which was built in the Norman-Arab-Byzantine architecture. Above the main altar there is a mosaic of Christ Pantocrator. The word of Pantocrator comes from Greek and translates like God Almighty or All Powerfull. This concept of God is typical of the Eastern Orthodox Church. God´s face in the Cathedral of Cefalu is thoughtful, with big eyes wide open, staring directly at believers (and nonbelievers), it is impossible to escape his eyes. In his left hand there is a closed book of the New Testament, fingers of the right hand are held in a specific position. This icon displays the Old Believers´ form (Old Believers were a group who refused to recognize the reforms by Patriarch Nikon in 1667 Russian Orthodox Church). Thumb, ring finger and little finger are bent together symbolizing the Trinity, while the forefinger and slightly bent middle finger are held upright, symbolising that Christ descended on Earth and became a man. We could see a similar painting in the magnificent cathedral of Monreale, too – in that one, however, God has an expression of a stern judge. The construction of these churches in the period of Norman rule was associated with the struggle for investiture (the king wanted to prove that he got his royal title and the right to rule directly from God, not from the Pope).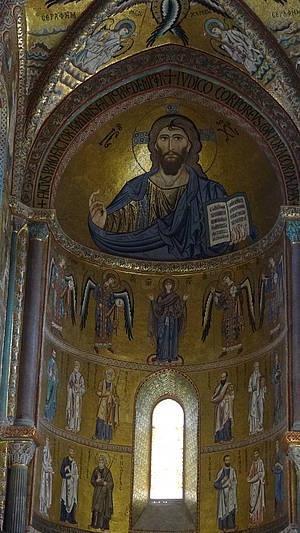 Palermo. The most interesting is the building and activities of Palermo's Teatro Maximo. It presents excellent performances of big variety of operas. However, it only has a stable orchestra and a choir. The soloists are no employees - each of them is specifically "bought" for a specific performance. This system has advantages and disadvantages for spectators and opera stars as well. The downside is that e.g. Tosca is on stage for three weeks, then the next fortnight or longer there is no live opera performance, next comes e.g. Lohengrin etc. So, if you have not managed to see the opera in the short time when it is on the stage, it cannot be helped. It is not like our opera houses, which play every evening a different piece which is eventually repeated. The advantage is that the management can provide for this limited period of time the best opera soloists from all over the world - opera in Palermo has a great sound and everyone likes to sing there (this type of organization is no exception in Sicily – orchestra players and choir singers are permanent employees, soloists not). At the time of our visit, there was La Boheme on (seems to be favourite in Sicily at the moment) and the next days no "live" performance. Instead the Teatro Maximo projected on the big screen live broadcast operas from various world opera stages. A big screen was also located outside the opera house, in the open air. Audience could either remain standing and listen to the entire opera for free, or pay one euro and sit in a designated area. Sometimes, when there is no projection, the open air stage is taken by various other artists. We were lucky to see (for one euro) a performance of a choir, which was able to mimic by their voices any musical instrument. Thus they made accompaniment to excellent soloists - the repertoire included songs from musicals and films (especially Supercalifragilistic from the film Mary Poppins awoke in me sweet memories of times long gone). Such a concept is an excellent way how to intermediate cultural experience also to the people who otherwise would not have money for culture.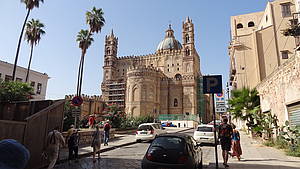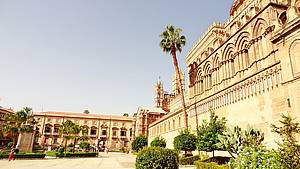 In Palermo there are permanent pedestrian zones as in the most cities, but besides that the mayor of the town gives instructions to close completely some streets for cars on the certain days. So it happened that on Sunday we could walk from our hotel up to the Teatro Maximo in the middle of a central street. Where cars were driving during the weekdays, inhabitants of Palermo were strolling now, watching the street artists´ performances and shopping in the stores, which were all opened on that occasion (otherwise everything is closed on Sundays).
While our guide warned that Palermo is the place of more pickpockets and criminals than other cities, we were feeling strangely secure, like at home. Mafia did not come to introduce itself to us.

However, one strange thing happened. During a trip to Monreale, we lost one participant, who after visiting the cathedral did not come back to the bus. We organized a rescue mission with no result, the guide let her name already also at the police station. After an hour, the guide had an idea to call the hotel and to leave the message: if this lady appeared they should let us know. And guess what - she just arrived. I did not understand how this could happen - she was quite a nice and sensible lady, to let us wait for her did not fit to the normal pattern of behavior. In the evening she told me what was the story. She really got lost and could not find the place where the bus was parking. Therefore she started to walk on her own down the hill (somehow everything in Sicily seems to be on the slope). It was hot, so she went slowly. Suddenly a car passed by driven by a priest, she waved at him and he stopped (what a hitchhiking experience
). But when they arrived at one of the busy intersections, where there was congestion at the traffic lights and traffic moved slowly, a black-clad man came to the car and knocked at the window. The priest opened the window and the two men argued about something. It seemed that they knew each other. This lady could not speak Italian but she understood instinctively that the priest was refusing to do something. They argued long enough, eventually the priest gave him 50 euros and the young man left. Then the priest drove her to the square of the Teatro Maximo. We could not really put our finger on it, the whole matter was somehow inexplicable. But the lady was convinced that it must have been a tithe to Mafia, why would the priest otherwise pay. We better forgot about it and went to a colorful Palermo market.
Studiosus also tried to convey us an insight into the lives of residents. For example, we had lunch at Marianna´s – she lived for thirty years in Germany and now returned with her husband and six children (the eldest daughter 41 years) to Sicily. The guide told us that the most Sicilians have a dream to save enough money while working abroad and return. But many times these dreams fail. They have children who no longer want to return as they found partners in Germany, and because the family means a lot for the Sicilians, nobody returns. However, if at least one child prefers to live in Sicily, parents would return with him or with her. They would buy a house and try to build a new existence. But it is not easy - they were away too long, they do not belong any more, if they start a business or open a shop, they often have not the necessary contacts, the money melts too quickly. They also got accustomed to a different way of life and behavior. Many such dreams end unhappily by coming back to Germany, but even that is not easy, especially when they sold their apartment or house. Marianna is one of those who managed to build a new life for herself and her family, to fulfill her dream. She organizes lunches for tourists at home - she is able to prepare lunch for up to thirty people. Her husband owns several ice cream vans, he drives through the surrounding towns and villages and sells the ice cream. Marianna cooked a delicious homemade specialties and ice cream was the sweet dot. I had pistachio and cinnamon flavours. It surprised me that cinnamon was pink – Marianna´s husband explained to me, that cinnamon, when cooked, turns to this pink colour. But it was definitely cinnamon, the taste and aroma were delicious. Otherwise, the favorite dessert in Sicily is cassata (cake dough filled with biscotti soaked in cream with rum, candied fruit, chocolate pieces - it has many variations), cannoli, which are cones with a sweet filling of ricotta (fresh sheep's milk cheese) with added vanilla, chopped fruit and chocolate and granita which I have already mentioned (watery ice cream with lemon).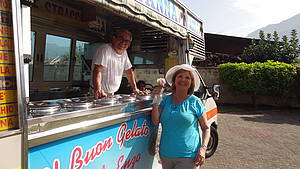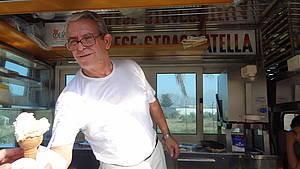 Studiosus organized two extra trips (temples of Segesta and baroque of Noto and Scicli) but we wanted to have at least two days on our own, so we did not participate. One of these days we spent on the beach Mondello, where we rented for a fee sunbeds with parasol and the possibility of using changing rooms and showers. The sea was blue, the water clean, the beach was sandy (unlike the beach at our first stop in Giardini Naxos, where they were pebbles and stones). So we enjoyed it. Trees were everywhere around. The oldest trees in Sicily include chestnuts, olive trees and plate trees, and of course there are many orange and lemon groves. Not speaking about beautiful palms.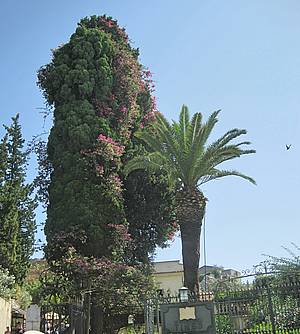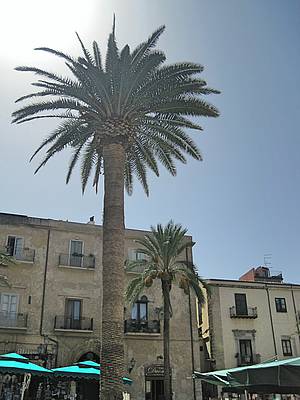 Our next residence was Agrigento. We drove from Palermo through the Cave di Cusa, an ancient quarry where the Greeks quarried stone for their nearby temples. They used the following method: the slots in the stones were piled by wet wooden rods, the wood got swollen and by that ripped the stone (there was no dynamite at that time, that´s for sure). Of course, this work was carried out by slaves. Then we went to Selinunt with the remnants of six Greek temples. We ate in the restaurant at the sea shore and then had another tasting of wine and other typical products of Sicily. We saw later much better preserved temples in Agrigento. In the valley below the town there is a complex of temples of Hera, Concordia and Herakles and the remains of the temple of Zeus. All area is under heritage protection by UNESCO. It was a fascinating walk – fortunately the temperature dropped to around 25 degrees, so we could also concentrate on the history much better.

The atmosphere around the temples is well complemented by a huge modern bronze statue of Icaros who just fell from the sky. We also visited an interesting Museum of Archeology.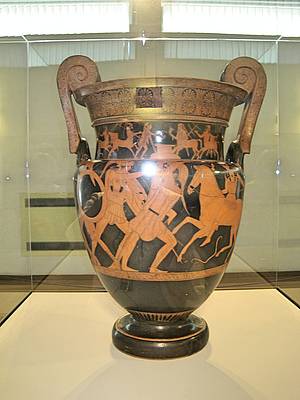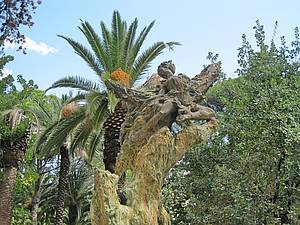 In the evening we arrived at the hotel in Agrigento. I still have to make a remark regarding the accommodation. Although the travel agency Studiosus accommodates mostly couples, nearly all of them require twin beds – which the travel agency orders in advance. This meant that in every hotel we had to ask specifically for a double bed. In the first hotel we were not assertive enough and let it be, but in other hotels it always worked, though originally twin beds were ordered. I'm not used to sleep in the single bed any more, it is too narrow for me

, I cannot remember when I last slept on one, probably during one of my business trips for Bovis Lend Lease, although also during these trips I usually got a double bed (and half of it was left free

).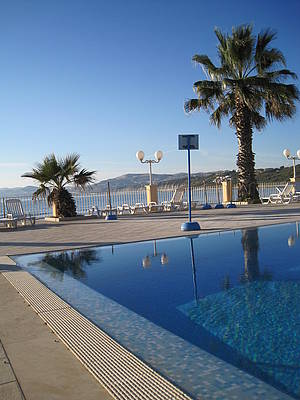 From Agrigento we made a trip to a small town of Sant Angelo Muxaro. It is located on top of the rocks like an eagle's nest. The bus had to drive very carefully through the narrow serpentines – sometimes it seemed to be only couple of centimeters, and there was a precipice below us. We were expected by Pierfilippo, who showed us around and explained how he founded the local cooperative for ecotourism. There are many possibilities of private accommodation in Sant Angelo Muxaro and tourists can enjoy the beautiful surrounding countryside. Everything is green in spring and there are beautiful views from the top to the valley. Guests can also enjoy dishes prepared from natural ingredients according to the old Sicilian recipes, as they were made for centuries. First, we tasted sheep cheese produced by Seňora Olga. Her family owns 100 sheep. Olga makes various types of hard cheese from their milk and produces also white cheese similar to cottage cheese as a byproduct (called ricotta and very tasteful). We were explained the production method in detail. Then we went to a bakery, the kingdom of Seňora Maria, where we could taste excellent bread with olive oil. We felt that it was a pity that hotels did not buy this excellent type of bread, but the guide explained us that these small producers had problems with logistics. Every hotel must have bread for breakfast by 6.30, and if the deliveries were delayed, they would have a big problem. To deliver "just in time" from the "eagle´s nest" is obviously not so easy. Another town resident carved a crèche with a few hundred figures and presented it to the visitors. Yet another "businessman" was sitting on a sidewalk and sold local pistachio nuts. So in this way the maximum number of inhabitants of Sant Angelo Muxaro gets involved in ecotourism and have at least some chance to earn their livelihood.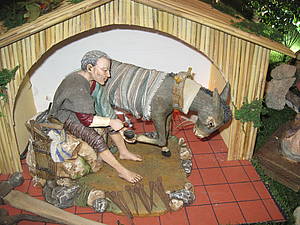 The writer Luigi Pirandello, Nobel laureate, born in Agrigento, spent also some years in this town. He is known in our country mostly by his theatrical play Six Characters in Search of an Author from 1921. I must admit that my knowledge of Sicilian writers is otherwise limited. I read a very interesting classical book The Leopard by Giuseppe di Lampedusa (from the time of Garibaldi insurrection) and also detective stories by Andrea Camilleri, with the main sympathetic character of Commisario Montalbanos. And of course, before we left for Sicily, I reread all parts of The Godfather
Piazza Armerina is a small town which became famous for its mosaics in Villa Casale from the 3rd century AD. These mosaics were made in a house of super rich Roman in the time of Roman Empire. Nowadays they were declared by UNESCO to world cultural heritage. The mosaics are on display in 45 preserved rooms - their total area is 3500 m2. Hunting scenes, images of family life, mythological scenes, ornaments, girls in bikini engaged in a variety of Olympic sports (unbelievable case of emancipation at the time of the Roman Empire). Amazing how these mosaics are preserved (they were saved by mudslides in the 12th century, were hidden under a layer of soil until full disclosure in the mid-20th century).
Syracuse. The first on the agenda was a visit of the Greek amphitheater which still plays tragedies by Aeschylus, Sophocles and Euripides. A cave next to it has an excellent acoustics and echo and is called Dionysus Ear as a reminder of one of the absolute rulers of Syracuse, Dionysius the Tyrant of Schiller's ballads Bürgschaft (Hostage), which celebrates friendship and loyalty. We stayed at the hotel Alfeo in the old city. This allowed us to investigate Syracuse thoroughly on foot. It has a charming Ortygia Island, connected with the city itself by two small bridges. The most impressive is the Cathedral Square and its Dome, which was originally temple consecrated to the goddess Athena. The magnificent Greek columns could survive for centuries only because they were incorporated into the building of the Catholic cathedral. Nowadays the cathedral is dedicated to Saint Lucia, the patron saint of Syracuse. Only small remnants were kept from the nearby Apollo temple. All the more impressive is the fountain of the beautiful nymph Arethusa, with floating white geese and dense reeds. We could admire Syracuse also from the sea when we went by boat around the bay, the place of the fatal battle against the Athenians during Peloponnesian Wars (Syracuse won). We visited the catacombs, the modern Church of the Virgin Mary, which reminded me of Liverpool Cathedral, the museum of puppets (especially knights called Pupi) and a regional museum of Syracuse. Sometimes we just browsed around the Isle of Ortygia, which is extremely charming.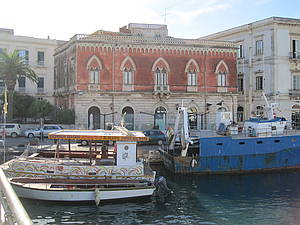 Conclusion: Sicily has fascinated the Europeans since ever. Maybe it started with Goethe, who described it really enthusiastically in his "Italian Journey". The island is really lovely - a beautiful subtropical nature, mountains, cliffs, deep valleys, azure sea, and architectural monuments. Regarding the present, we could see that also Sicily has been hit by the economic crisis. We heard that many people are forced to live rather modestly, many, especially the young ones, are leaving the country. But to our surprise we could not see much begging - we agreed with the participants of the tour that sometimes more beggars could be seen in the centers of German cities or in Prague. Also, we have not seen even a single refugee, although their influx must be very difficult to handle. People usually speak only Italian (with the exception of those who have worked abroad), even in many hotels English or German is a problem. Another observation: Sicilians never hurry too much and the cars in the streets do not honk! I thought that as per Sicilian temperament the "noise pollution" produced by an incessant honking will be high, but that was not the case. On the other hand, the guests in the restaurants are chatting very loudly but we are used to it from the English restaurants (you might not believe it, but the English restaurants are often extremely noisy). The Sicilians are nice, welcoming and helpful, showing to the tourists that they are welcome. It is clear that tourism is an important part of their existence, but it's still enjoyable.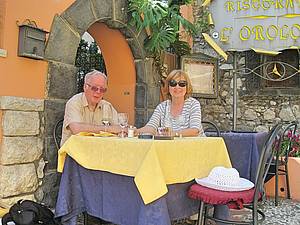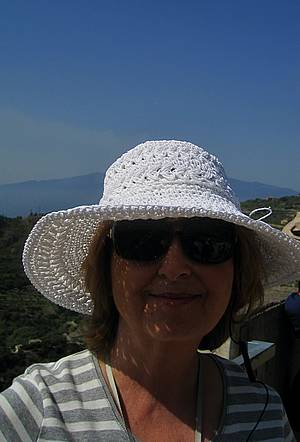 In the Syracuse museum I found a book about myths connected with Sicily. I am aware that the stories as such will be nothing new for most of you, but I also know that some of readers of this webpage are interested in the myths very much. So those who have no interest in mythology, can stop reading here
Mythology connected with Sicily
Enceladus
When Giants were fighting Gods of Olympus, one of them called Enceladus tried to climb Olympus. Goddess Athena realized the danger and threw at him an enormous boulder that immobilized him forever. That rock became Sicily. It is said that mouth of the giant is located just right under the volcano Etna. The earthquakes and the eruptions of the volcano are evidence of the efforts of the giant to break free. One of the moons of Saturn got name Enceladus according to this giant.
Odysseus
When Odysseus was returning from the War of Troy to his kingdom Ithaca, he had to go through many misadventures because he behaved arrogantly to the gods. Some of his adventures or misadventures are connected with Sicily.
It was on Sicily where Odysseus and his men were caught in the cave of a Cyclops Polyphemus, son of Poseidon, and got out of the cave only by hiding on the belly of the sheep. For blinding Polyphemus, Odysseus attracted the wrath of Poseidon who wanted to make his journey home impossible. The massive rocks thrown by Polyphemus at Odysseus´s ships can be seen next to the town Catania.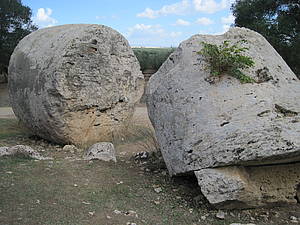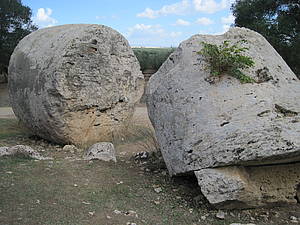 Another story connected with Polyphemus is the one about Acis and Galatea. Galatea was one of the Nereids, nymphs of the sea. She loved to spend her days by walking by the sea among beautiful green trees and plants of the island of Sicily, below the majestic Etna. Polyphemus fell in love with her and to attract her attention he learned how to play flute. However, when he played his most gentle love song for Galatea, he could see her in embrace with a young shepherd Acis. Polyphemus roared with pain. Galatea hugged Acis and told him to run away, otherwise Polyphemus would kill him. But it was too late, Polyphemus threw an enormous boulder and killed the shepherd. Galatea asked Gods for mercy and they listened to her prayers. They turned the blood of the shepherd into the river Acis which flows slowly to the sea. So Galatea could stay for ever with Acis bathing in the sweet waters shaded by the volcano.
The next stop of Odysseus was on Lipari or Aeolian Islands which belong to Sicily. Aeolus, guardian of the winds, gave him a bag, in which he imprisoned all winds with the exception of Zephyrus, a mild wind coming from the West into the Mediterranean Sea. The companions of Odysseus thought that the bag was full of gold and let the winds free – the ship was chased away from the Ithaka which was already at sight. Aeolus refused to help again somebody who is in disfavour of gods.
The powerful sorceress Circe turned Odysseus´s men in pigs. Hermes gives Odysseus an antidote, the hero defeats the sorceress and she falls in love with him. She advises him how to escape the dangers which expect him. First she tells him that he has to have the ears of his crew waxed and himself to be tied to the mast if he wants to resist the seductive singing of the Sirens. Odysseus follows her advice and is able to hear the Sirens without perishing. Circe is not directly related to Sicily, she lived on the island Aeaea, the precise location of which is unknown. Also Sirens reportedly lived on the Anthemusa island, near the Italian Capri. But I want to mention her because through another good advice she gave to Odysseus he managed to survive the passage through the Strait of Messina.The Strait of Messina was a very dangerous place. Two monsters, Scylla and Charybdis, lived there. Odysseus lost nearly all his companions and was saved only by following the advice of Circe who told him to hold on to the fig tree and then he would be safe. Scylla is the name of a town in the province of Reggio Calabria. Charybdis is in Sicily in the province of Messina. Up to these days that strait undergoes strong and dangerous currents.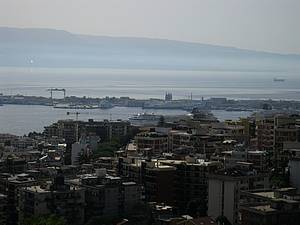 Messina is connected with another Greek myth. Orion, the human originated from the urin of Zeus, his son Hermes and his uncle Poseidon, was a great hunter. He was roaming around and hunting with his dog Sirius until he reached Messina, called Zancle (Scythe) at the time. Poseidon let the coast of the city to be repeatedly ruined and ships coming to its coast sink. Orion helped the people of Messina to build the temple to Poseidon and the harbour in the shape of Scythe, which limited the storms and enabled ships to be able to turn without the influence of currents. Orion was married to Eos and loved her. When Artemis, goddess of hunt, fell in love with him, he refused her. Artemis accepted it but when she saw him how he was chasing seven beautiful girls Pleiades, she stopped believing that the reason of his rejection was faithfulness. On the advice of her brother Apollo, she let him to be bitten in the sleep by a poisonous sting of Scorpion and Orion did not wake up any more. Artemis regretted her deed and told Zeus what happened. Zeus was moved by the story and decided to make Orion eternal turning him, his dog Sirius and also Scorpion into three constellations.
Cefalu. The high rock of Cefalu is in fact Daphnis. He was a son of nymph Daphnide and Hermes, but brought up by shepherds. The God Pan taught him how to play bagpipes beautifully and since then his music was making the waters of the Irminio flow slower, the hares stopped and the ferocious beast got quiet. When he got married to his wife Nomia, she told him that if he were ever unfaithful to her she would blind him. Daphnis was tricked into being unfaithful by the king´s daughter, but Nomia did not believe him and fulfilled her horrible pledge. Daphnis left the banks of Irminio and came to the rock of Cefalu, he played for the last time Pan´s bagpipes and let himself fall from the rock. Hermes turned him into a rock – rock of Cefalu. Sometimes when the waves of Mediterranean crash at the rock, some swear that they can still hear Daphnis ancient sad tune. The truth is that a similar legend is being told about Daphis and Chloe on the Island of Lesbos.
Colours of Sicily
People of Sicily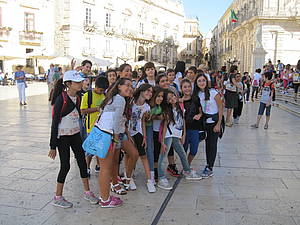 Having Fun in Sicily