Weekend in Bangalore (or also Bengaluru) - February 2016

We went to Bangalore, the capital of the second largest Indian state of Karnataka, for a prolonged St. Valentines weekend. Bangalore has 7 million inhabitants and is considered a centre of IT technologies. Therefore I expected many glass buildings, skyscrapers, etc., but there were not so many of them as in Mumbai. The tallest building has 46 floors and 153 m. Otherwise there are a lot of similarities with Bombay - crowds of people on the sidewalks where it is difficult to walk because of many holes and uneven surface, and there is also a similar composition of shops, large department stores, hotels etc.
The architecture of our hotel Sterlings Mac is a very strange mix. Upon arrival, we walked into the reception area around the ornate sandstone pillars - and the reception was in semidarkness. It was decorated with a combination of masks with blind eyes and some modern paintings were standing next to a large statue of the Virgin Mary with the Infant Jesus. The hotel is built like atrium, all eight floors of galleries form a circle with a view down to the ground floor at a modern restaurant with glass floor. Below the glass there are rocks and creeks with water nicely illuminated at night. Walking on that glass floor made you feel insecure – how could you be sure that the glass did not break down? The room I was also amazed by a sculpture of a bronze hand which was fixed on the wall in our room. Was it just art, or an incentive to give a tip?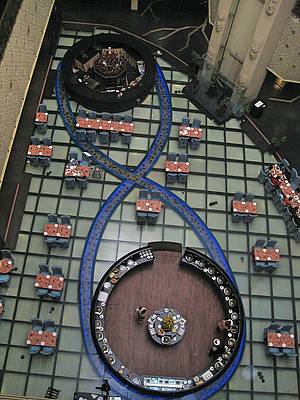 Because we went on a sightseeing tour on Sunday, we did not need to suffer the usual heavy traffic which was a big plus. First we went to the Hare Krishna temple, founded by ISKCON (International Society for Krishna Consciousness). We were the only "white" faces there, so we got some preferential treatment and did not need to queue too much. Hare Krishna movement originated around 1976, thanks to the faithful from different parts of South India and spread throughout the world. ISKCON temple in Bangalore was dedicated in 1997 and is one of the largest complexes (has 6 buildings with six altars – Shrines). People come here to attend a ceremony called darshan, which is something like a meeting with the holy beings. One of the holy men first poured a handful of holy water for washing our hands, and then we were asked to put palm of our right hand into a bowl with pink flowers in a way that they partially overlapped. He then expressed his blessing and assured us that karma is good, that everything in our country and our families would be fine and that in the next year health and satisfaction will prevail. So let us hope it will be fulfilled. Then we were seated into the first row cross-legged in front of a statue of Krishna (the God should not be shown the soles, so George had to suffer it), and we were meditating for a while. Some Indians, when they reached the Krishna statue, prostrated themselves and only then were seated cross-legged too. The atmosphere was quiet and festive.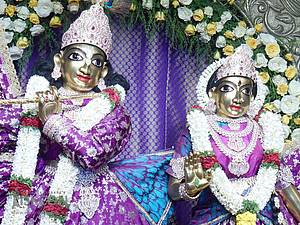 That changed somewhat when we were leaving the temple. The descent - several floors down - was full of shops with all sorts of trinkets (of course with Lord Krishna), food shops (there were no freebies like in the Sikh Temple in Amritsar) and the staff tried to convince people to give more donations. One of the activities of the foundation is to ensure one hot meal a day for every child in Indian schools, which is certainly a commendable effort but when George offered them 500 rupees, he was told that the minimum was 1500 rupees. This approach did not seem appropriate to us so they got nothing. As foreigners, we had already paid 1000 rupees per person entry (natives are paying 200 rupees). But we have received also blessed dried fruit, CDs and some pamphlets. Well, it was all very commercial.
The most important sight in Bangalore is a summer residence of Maharaja of Mysore. The construction of the palace began in 1862 and was completed in 1944, it is reminiscent of a castle in Windsor. Maharajah of Mysore Chamarajendra Wadiyar X bought it in 1884. The palace still belongs to the royal family, but the Indian government is trying to use all the tricks in the book to be able to kick them out and pay them a ridiculous price for this very valuable site and property (lawsuits have been lasting since 1970 – of course it reminded us of some of our experience). It was mentioned everywhere that the palace was renovated and there were signs informing that the renovation is taking place in some rooms, but like most Indian monuments, many interior spaces were weathered and neglected (Wadiyar X is probably turning in his grave). However, what was excellent was the possibility to rent an audio tour as a part of the ticket which enabled us to stop individually at various places and be told in a beautiful English what we were looking at. The rulers of Mysore were great hunters – it was said that they had shot about 300 tigers and a lot of elephants. The legs of elephants were used for decorative purposes and an elephant´s trunk was used as vase. At the present time, it seems to us as a horror story, but they had a justification because they said that the tigers were threatening and killing villagers. It was also interesting to see many paintings and photographs from the family history.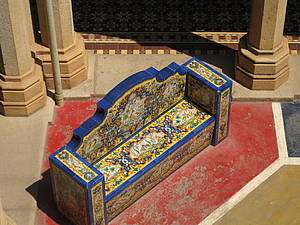 Then we passed the government buildings. The one which particularly exceled was "Vidhana Soudha", which is the seat of the Legislative Assembly of the State of Karnataka (adequate to the Parliament), completed in 1956 in neo Dravidian style. In contrast, the Supreme Court, which was built in the time of the British rule, is much more modest (we were told that the grandeur of the Legislative Assembly should overshadow the construction of the British on purpose). The slogan "Government Work is God's Work" written in golden letters on the building is a little bit intriguing for everybody who knows how things function in India. Next to the Parliament there is a large statue of Mahatma Gandhi in bronze, but at the moment an underground is being built in its neighborhood so poor Mahatma was sitting there behind the fence looking somehow abandoned.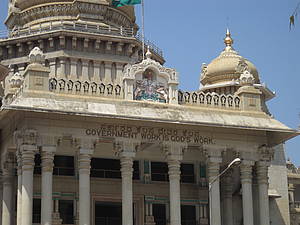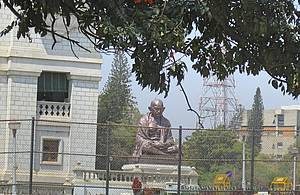 Then we went to the Botanical Gardens, Lal Bagh. We went through the gardens by a mini train. The Botanical Garden has magnificent ancient trees, but overall it looks a bit scruffy. The Indians can build beautiful things but when it comes to the maintenance it is always lagging behind. The highlight in the garden is a Glass Pavilion (similar to a Glass House in London and Liverpool), which accommodates twice a year a flower show. The garden has a small lake too, which reminded us of the Serpentine Lake in Hyde Park in London. A huge mound of a single piece of granite, where people step up to a small temple gave me an occasion to take a few pictures of relaxing Indians and their families.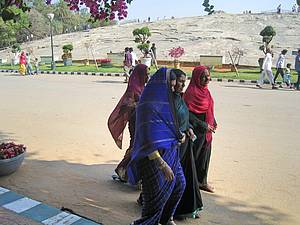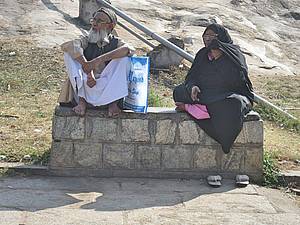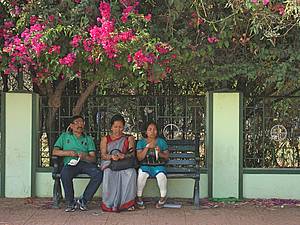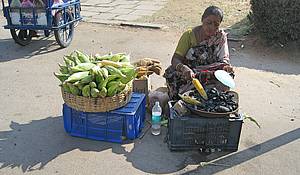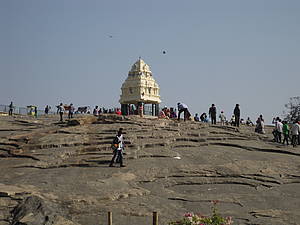 Another monument is the seat of Tipu Sultan, which was completed in 1791 and has decorative elements not only of Islamic but also of Hindu origin. He did not have any problem with that, because the Sultans and Mughals of that time were religiously very tolerant (in contradiction to all statements that Islam has always been very aggressive – it is apparently not true).
The next day we were able to visit the very nice National Gallery of Modern Art and pass several modern quarters. The painters of the New Indian School in the 19th century wanted to free themselves from British influence and for a change, they let the Japanese and Chinese art to affect them. A lot of their inspiration was connected also with the Moguls. A big role was played by so called Bengali school in Calcutta, to which belonged the poet Rabindranath Tagore (in Czech Thakur) and his two nephews, painters Abanindrnatha Tagore with his brother Gaganendrnatha Tagore. It was simply all in the family. The next generation of Indian artists was very patriotic and involved with local themes, but finally, in the twentieth century, they could not and did not want to resist the influence of modern European art. Some works were very impressive – a forest where trees with wires instead of roots, connected to sockets, a man and a woman wandering across the desert, radiating despair, pilgrim or holy man in the mountains, sculpture men with taut muscles .. Inside the gallery, however, no photos could be taken.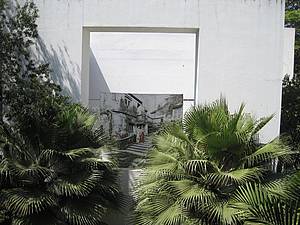 We celebrated Valentine's Day with dinner at Leela, which was located directly across the street from our hotel. The only problem was that it was basically impossible to cross over. The stream of vehicles was endless and quite fast (two to three streams in both directions), so we always had to wait ten minutes before the traffic lights somewhere on the main highway stopped the stream of cars and then we could quickly run over. Leela in Bangalore as well as in Mumbai is in a beautiful garden, so we rather enjoyed it.
We had an interesting experience with taxis. When we wanted the concierge to order a taxi for us on spot, it was not possible at all, as the hotel had only a limited number of hotel cars which had to be ordered in advance. But he gave us advice what to do. We had to download an application of a taxi company OLA on our cellphone so that the "big brother" could always keep track where we were (we had to include our email address too). Then we just pressed the button, the system itself assessed where we were waiting and on the mobile phone screen appeared information when the taxi was supposed to arrive, what type of car, which colour and what registration plate. To say the truth, when the screen said the taxi was coming in 2 minutes, it arrived in 4 minutes, but basically it was all fine and functioning. However, it became more complicated when we were in the mall, the taxi was waiting for us at one outlet and we were waiting at the exit on the other side. "Big Brother" could obviously not see everything so exactly. Luckily, someone from the company called the taxi and then us and told us that we should go to the other side, which we did and found the taxi. Even finding it was not easy as some of the cars were labeled with the OLA sign, some did not. The nice part of it was that these taxis were very cheap indeed, I would say less than half of tariffs in Prague. So we were proud of ourselves how we mastered the new technology and we practiced it until once the connection got somehow wrong. It was not clear why: too many people on the net? The mobile screen still showed that someone would come in 2 minutes, but we did not get the information which car would come – and nothing came. So we were in a fix (no possibility to catch taxi on the road – nobody stops, and George´s mobile running out of the power). Finally we dared to ask a taxi driver who just unloaded passengers in front of our eyes (the whole thing happened at the World Trade Center and there were plentiful taxis passing by), whether he would not take us into our hotel. This was an illegal act from him, however he did it gladly and charged double of the original price. But we were glad too. So taxi drivers in Bangalore, although under strong control, also have their ways of bypassing the system (when you go through the electronic system, it is all perfectly organized and there are no gaps. The taxi driver asks the client if he is allowed to press the button on a mobile at the beginning of the route, he also notifies the passenger that he pressed the button End of the Drive, and then shows him the exact price on his mobile phone screen in rupees, for example, 161 rupees) – the price is very low and the taxi driver does not ask for tip unless you give it to him. The fact is that standing on the street and catching a taxi does not exist in Bangalore. You have always to order, be it via cell phone, or to via hotel reception in advance. Well, regarding the taxis Bangalore really is the IT city, although it might sometimes also involve some complications.
Finally I would like to mention the airport which is new, modern, clean, and in a 10 km radius has beautifully landscaped surroundings, especially around the roads – it looks as if it were somewhere in the Gulf countries.