Journey to Mount Abu - March 2017

Our friend Dr. Ray Bhatt has been since long inviting us to visit Mount Abu in Rajasthan on the border with the Indian state of Gujarat. There is a center of the World Spiritual University Brahma Kumaris with which Ray is closely connected. This time it was convenient, as we always undertake at least one exploring trip in every place where we spend a quarter of a year.
We flew from Goa to Ahmedabad, the former capital of the Indian state of Gujarat (now the capital of Gandinaghar). We did not have much time to be spend there, but whilst going through twice it reminded me of the impact on the development of the city made by Mughal Akbar and Shah Jahan. The modern history of Ahmedabad is contradictory, like mostly everything in India. On one hand it is a city where Mahatma Gandhi lived 12 years in the Sabarmati Ashram, popularized his philosophy of nonviolent resistance, and began also the most significant civil disobedience march in protest against the British Saline law. On the other hand the modern history is marked by frequent fatal (and shameful) fights between Muslims and Hindus that took place not only at the time of partition of India and Pakistan (1947), but also in 2002, when our company Dirk India had its office in Ahmedabad. This pogrom resulted in around 2,000 victims, mostly Muslims. The current Indian Prime Minister Narendra Modi, who was at that time the chief minister of the state of Gujarat, had to defend himself at the court because of his responsibility for the inadequate actions of state power and police as this explosion could be prevented if the police would not be at the beginning only watching.
We reached Ahmedabad in the evening and drove the next three and a half hours to a town called Abu Road. This is the lower part of the premises of Brahma Kumaris below Mount Abu, called Shantivan. A room in the building for guests had been allocated to us. Although it was quite late, we still could get a dinner in the dining room, which is opened 24 hours, since BK and different pilgrims from outside are constantly coming and going. Food was good, although strictly vegetarian, served on plates made of stainless steel (we received also stainless drinking cups) prepared in accordance with a number of rules of Sattwic diet. Everything was very tastefully seasoned with herbs, the main course was accompanied with salad of cucumbers and tomatoes, and everyone could eat as much as he/she wanted. For a drink - coffee, tea, water. After an evening stroll around the illuminated meditation pavilion, we quickly fell into bed. It was very hard (at least compared to what we're used to), but surprisingly, we slept quite well.

The next day we were driving for thirty minutes through dangerous switchbacks upto the summit of Mount Abu. That is a real heart of the organization, with meditation halls, museum and art gallery. In addition to meetings with individual women who are significant for the movement, we also received a lesson in basics of meditation, which is part of Raja Yoga. All of the women were white as angels, they offered small refreshments, small gifts, smiled and spoke in a quiet soft voice - everyone should feel welcome as their guest of honor. We also met various local characters – for example an artist who has a cottage built into the rocks and dedicates himself to the spiritual art of painting (from Sweden). Or a carpenter from Britain, who cycles every morning down the hill of Mount Abu to Abu Road, and what is even more remarkable, he returns on his bike up to the Mount Abu every night. He must have been in his late sixties. They did not mind telling us the stories, how they became Brahma Kumaris.


Shantivan complex, the largest meditation/conference hall
We were also very much impressed by the solar center, built with the substantial assistance of German government - during our visit they conducted trial operation before starting supply the complex by solar energy. The director of the solar plant is German, they call him Golo, and he had been living at Mount Abu for twenty years.

In the following days we had the honor to meet most of the chief representatives of the World Spiritual University, which is governed by women (Kumari means an unmarried woman). Dadi Janki, who currently heads the University and had recently celebrated her 101st birthday, is one of the most important spiritual leaders in the world.
I think it is high time to explain the philosophy behind the World Spiritual University Brahma Kumaris (briefly and therefore maybe not one hundred percent exactly), which is now being spread worldwide. This movement was founded in the thirties of the last century by Brahma Baba, a wealthy diamond merchant who wanted to give to the Indian women a different life choice than arranged marriage, living in the house of mother-in-law, child care and housework combined sometimes with good and sometimes with ill-treatment by her husband and relatives. At that time, the idea was truly revolutionary in India: there was suddenly something else to be selected from – a woman did not have to get married, she could dedicate her life to the spiritual revival of the world, which according to Brahma Baba was (and is) in a poor condition. It was completely different world than just a bedroom and a kitchen. However, everything in life has its price - in this case, the necessity to adapt fully to the rules of the association. BK (abbreviation for Brahma Kumaris) get up at 4 in the morning and spend time with meditation (they say that this early hour is perfect for meditation but unfortunately it would not be perfect for me), followed by classes or prayer, later on by breakfast. After breakfast BK dedicate themselves to various practical tasks. It can be anything from working in the kitchen, garden, IT center, organization of accommodation and transport, work in the well equipped clinic and hospital to very interesting activities of BKs in senior positions. During the day, the work is interrupted several times for a minute or two of silence – when BK can hear the music, they stop whatever they are doing and the whole complex remains silent. The members of the community address each other as brother or sister. At noon, a vegetarian lunch and in the evening a vegetarian dinner is being served. BK receive also the typical white clothing free of charge (either a sari or wide pants with a blouse or if it is a male, white suit of Indian type.). There is not one single shop in the complex, nothing is for sale, but needs of everybody are taken care of, including visitors´ needs. The premises are very clean, with beautifully landscaped gardens and lots of flowers of different colors to please the eye. A little Paradise on earth in the middle of the Indian circumstances which are significantly different.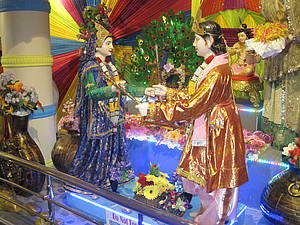 From the Museum Mount Abu

The prohibited activities include besides alcohol and drug abuse sex - celibacy is one of the main rules of the community. However there is no discrimination against anybody. Membership is open also to married couples if they are ready to keep the rule of celibacy.
The book by Liz Hodgkins "Dadi Janki - Century of Service" tells not only about the life of Dadi Janki, but also about other BK. There is a story of a married couple from Ireland, who chose this path and are happy with their choice even now, after 40 years. The story of Liz herself is different – she started to live in the community along with her husband, but it was he who remained, she did not want to give up some things for a lifetime and left Mount Abu. However, she did keep a good relationship with her husband and BK. Obviously what happens many times is a different story – then only one of the partners remains dedicated to BK, the relationship breaks up. Brahma Kumaris do not have family in the traditional sense but they all feel as brothers and sisters. They get an opportunity for further education and the best of them become emissaries of the movement, traveling around the world, attending various conferences and sharing their experience with sisters and brothers in other countries. Quite a different life from originally foreseen destiny of many of these women.
Since the seventies, the movement centers have spread to London and to other Western countries (Czech Republic does not have any center, but Bratislava does. There are 16 centers in Germany and about 114 worldwide). In the most of India's major cities the Museums of Spirituality have been founded. Brahma Kumaris at the United Nations is an international non-governmental organization with general consultative status at the Economic and Social Council of UNO and UNICEF. BK have a permanent office in New York.

A life governed by so many rules would be long term nothing for me. But I was fascinated by the choices that Mount Abu and the movement BK offered to Indian women. You might think that they are a type of a sect, and you're right, if you do not mean the word a priori negatively. But they have several characteristics which the others have not.
1. They accept members without any discrimination, according to them every person is a human being which has capacity for good, all souls start off pure and vice less. Regardless gender, nationality, skin color, and most importantly, no matter what religion, BK connects the communities of Hindus, Sikhs, Buddhists, Christians, Jews, Muslims or atheists. Obviously that must have been the reason why the movement could not be very popular among other religions (the other reason being promotion of women's liberation and dissolving the bonds of traditional family). From the very start BK had to fight for their recognition and they were several times dissolved by court order.


Museum of Arts - quotations from Koran, Bible, Buddha teaching, Chinese Philosophy, Vaya Purana and many other sources

2. This is the greatest spiritual organization in the world led by women. There are exclusively women in the leading positions of BK - the company recognizes the superiority of the so-called maternal principle.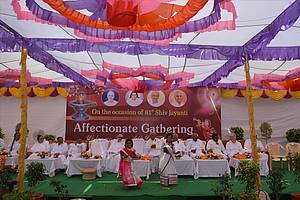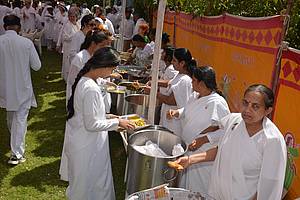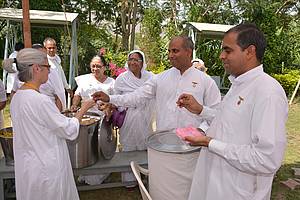 From the National conference of Brahma Kumaris coordinators

3. BK recognize the existence of a God as a Supreme Soul, it is a sort of spiritual energy, not a God sitting on a cloud, the same for all humanity. Due to the quote which we have successfully used in religiously divided India for years – "It is only one God and he is an enemy of no one" - we have got quite a good understanding with some Brahma Kumaris.
4. Another cornerstone of their philosophy is karma and the belief in reincarnation, but only into human beings, not in animals or plants. So everyone will suffer for his bad deeds in one´s life in the next life, and vice versa, nothing what happens is ever quite wiped out, but leaves the imprints on the soul that will affect subsequent births.
The next day we decided to see Mount Abu from other aspects. It is the only hill station in Rajasthan, which provided relief for British from grueling summer heat coming from the desert (800 m above sea level). Colonial villas are located around Lake Nakki and come from the late 19th century. One of the major monuments of Mount Abu is a set of Jain temples (Dilwara Jain Temples - https://www.youtube.com/watch?v=qlZL2uBz1HA), consisting of five beautifully decorated buildings set into the rocks in order to hide them from the enemies. They were built between 11th and 13th century. Each temple is a work of art carved out of marble with incredibly delicate and intricate ornaments on the ceilings, pillars and door panels.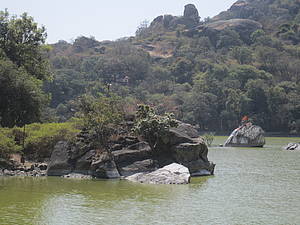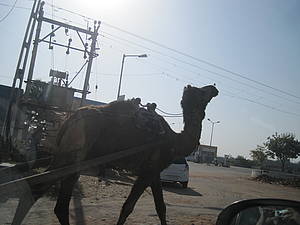 Nature and animals - surrounding of Mount Abu

Our journey was a fascinating excursion into a completely different world about the existence of which we had had no idea.