We have decided to spend our main holidays 2017 in Russia. It was comeback for me, partially, and the first time for George. I was in the former Soviet Union for the first time with a choir called Economist during my studies at Secondary Economic School – we were applauded for our jazz songs in Kiev in 1966. The next trip took place in 1972 – I served as a guide of a group of Czechoslovakian youth who visited Kiev, Kishinev and Odessa. The next occasion was a three weeks long family holiday by Skoda car – our schedule went from Prague to Ukraine (Kiev), Azerbaijan (Baku), Georgia (Tbilisi), Armenia (Yerevan), Caucasus (Elbrus 5642 m) to the final destination - Lake Sevan. In the years 2003 – 2004 I often visited Russia on business, I was several times in Moscow and once in St. Petersburg. This time we planned to visit St. Petersburg, to sail through the canal system and on the Volga River to Moscow and to spend couple of days also in the capital of Russia. As mentioned before my last visits in Russia took place 13 years ago and I was amazed how much the country changed for the better (of course, I have to admit, that it is impossible to recognize the hidden problems during short tourist journeys but we had a chance to speak to many people including my friend, so I would say that we have got some realistic picture). Russians are very busy – working and building up their country. We have seen so many cranes and scaffolding, especially in Moscow, that it is obvious that there is a construction boom there. Nobody seemed to be bothered about economic sanctions that might hurt certain sectors of industry, but not the common man. Russian Federation remains as per its territory the largest country in the world. In difference to some of its neighbours like China and India, with its 145 million inhabitants, there is a lot of unpopulated space in the country which has density of population only 8 people per square kilometer. They have a lot of space and a lot of natural resources. They might have a ruler who is rather autocratic, but everybody with whom we spoke was convinced that the country is going into right direction.
3 Short videos available on Facebook -
https://www.facebook.com/ivana.dirklukacovicova/videos/10213874650564392/ Sable Dance
https://www.facebook.com/ivana.dirklukacovicova/videos/10213874634843999/ golden dragonfly
https://www.facebook.com/ivana.dirklukacovicova/videos/10213874583002703/ Volga


St. Petersburg – impressions
We stayed in the hotel Crowne Plaza one minute walk from Nevsky Prospekt which meant that we could stroll around whenever we wanted. Streets were croweded with people doing their shopping or going to work, but also by various artists.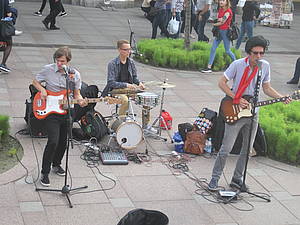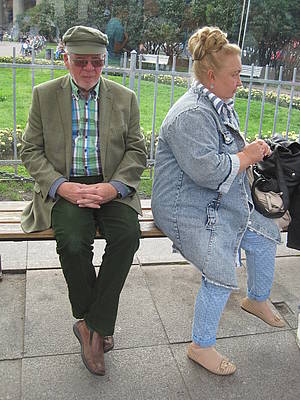 One of dominants of Nevsky Prospekt is Elisseeff Emporium, a large retail and entertainment complex, including a famous food hall constructed in 1902–1903 for the Elisseeff Brothers in Art Nouveau style. After a longish and complicated refurbishment started in 21st century the house was restored to its former glory. The food hall preserves the original 7 departments, which consist of 33 meters of display counters of loose produce and exquisite delicacies varying from modern French patisserie, bakery, cheese, charcuterie, smoked salmon, caviar wines & spirits and tea & coffee, confectionery, and home-made patisserie. Each department is beautifully decorated with gilded stucco ceilings and glitzy chandeliers and many of the original features and equipment used in its golden era. The building accommodated also a brasserie and a Theatre of Comedy.

Next to the hotel there was a café called Koffeina and opened 24 hours where we often had our lunches. Smoking is forbidden in all restaurants in Russia, but to our surprise water pipe is not – probably therefore it became quite popular in many cafés and restaurants – hookah pipe is not limited mostly to tea rooms as in Prague. Our Koffeina offered full range of various local and international dishes including Japanese, Chinese and French kitchen and those who were interested could enjoy at the same time also the water pipe (there were no separate spaces). You could also sit in the sun on benches next to flower pots in the street in front of the café, which we did.

We have dedicated one day to visiting magnificent churches of St. Petersburg, first the onion-domed Church of our Saviour of Spilled Blood, built on the site where Tsar Alexander II was assassinated in 1881.

St. Isaac Cathedral, the largest Russian Orthodox Cathedral in the city built in European Empire style, Kazan Cathedral, inspired by St. Peter´s Basilica in Rome, Smolny Convent and some small churches, e.g. Armenian, followed. The interior decoration of all these churches includes marble mosaics, semiprecious stones, gold and an abundance of original art and sculptures. That also goes for the iconostasis which divide the believers from the priests.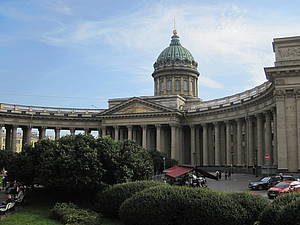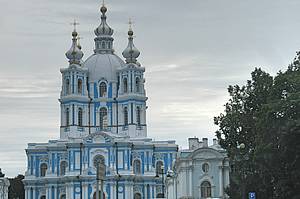 The most famous and interesting monuments in St. Petersburg:
Winter Palais/Ermitage which accommodates precious art collections. The most beautiful are The Malachite Hall, Budoár, the Golden Reception Room and the White Hall.


Peterhof (Peterskij Dvorec), summer residence of Peter the Great. The Grand Cascade – a series of more than 140 fountains and canals cascading down behind the Grand Palace is simply beautiful. I was thinking of my parents who visited this marvel many years ago and were also enchanted. We had a pleasant, very knowledgeable guide, perfect in German (as all our guides during the trip - the holiday was organized by Russian travel agent with a branch in Hamburg). It was the first school day in Russia, 1st September - many school children made an excursion to Peterhof and laughed when their school uniforms were sprinkled by numerous fountains.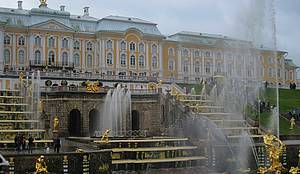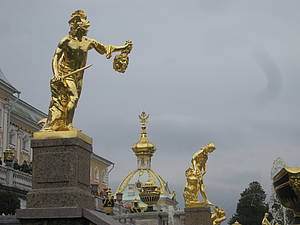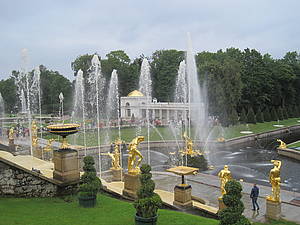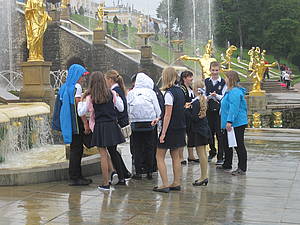 Pushkin – Tzar Village (Carskoje Selo). The residence originated in 1717 when Catherine I hired a German architect to construct a summer palace for her pleasure. One of her followers Empress Elizabeth expanded it to 325 meter length building in flamboyant Rococo style. The palace is popularly connected with the Catherine II the Great but she considered it to be like a "whipped cream" (quite rightly so) and when she ascended to the throne suspended many works started by Elizabeth and added some rooms in more sombre and elegant Neo classical style, which was her favourite one. The biggest attraction of the palace is renewed Amber Chamber.

St. Petersburg owes its existence to Peter I the Great who made out of a small village a capital of his empire. No wonder that there are more of his monuments in town – one magnanimous on the horse (Pushkin dedicated his poem Copper Rider to this statue) but another one showing him as a carpenter. It has been erected by the last tzar Nicolai II to remember how Peter set off to Holland to learn the craft of ship building which he brought back with him to Russia to help build the Russian Navy.
Some more pictures from our last walk around St. Petersburg.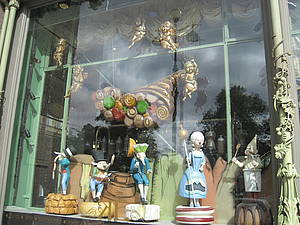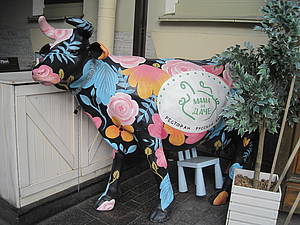 Cruise from St. Petersburg to Moscow
We have sailed on the ship Mstislav Rostropovich which received its name after one of the best World celists in the world. To our surprise the ship was built in Czechoslovakia in 1980 and fully refurbished in 2009. We had a room with a balcony on the middle deck, and enjoyed excellent cooking in French style in the restaurant Symphony or a drink in a bar Melody. Besides the stops, the crew prepared a rich programme including evening folk concerts and dancing, lessons how to paint the matrioshka or to prepare Russian specialty pelmeni. We could participate in tea ceremony or sing Moscow Nights (Podmaskovnie Vechera) in Russian. Testing of Russian Vodka could not be missed, we had on our table three various types: white one called Kalinka, brown Honey with Pepper and dark Cranberry Vodka. And whilst drinking it, we had always to invent a toast – the first three being Na vstrechu, Na zdarovje, Na ljubov = To our meeting, To the health, To the love. There was something for every taste: you could play Bingo (which we did not) or be a part of poetry evening. I was very much impressed especially by a young man who was able to recite various poems in Russian, English, French and Spanish by heart (there was Pushkin, Lermontov, Alexander Block, Vladimir Mayakovsky, Konstantin Simonov on the programme). The most interesting four lectures on history were given by Vladimir Kalmykov, professor of the University of Nizhny Novgorod. We disagreed with him sometimes but he was ready to answer any question, and lectures and discussions about the modern history enabled us a better insight into the present life in Russia.
Warm welcome on Board

Pictures from the ship - Melody Bar, Reception, Terrace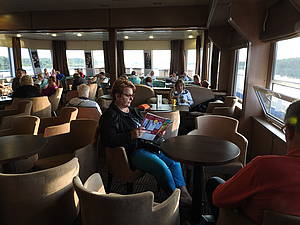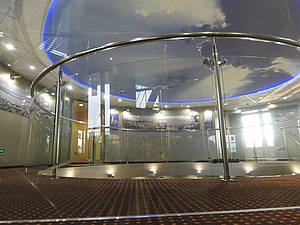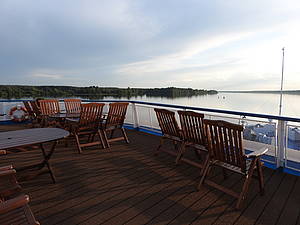 Safety excercise with swimming vests, cocktail with the captain, professor of Nizhny Novgorod University Vladimir Kalmykov lecturing, vodka being served in national costumes, tea ceremony with samovar, matrjoshkas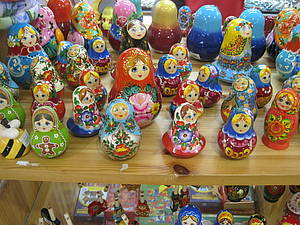 Stop 1 – Mandrogi – a village on the Svir River which connects Ladoga Lake (largest lake in Europe) with Onega Lake, founded in the 18th century, burnt during the 2nd World War and revived in the second half of the nineties of the 20th century. Besides a beautiful nature the newly built village features various aspects of Russian folk life. We could enjoy Russian music and dance and shashlik lunch.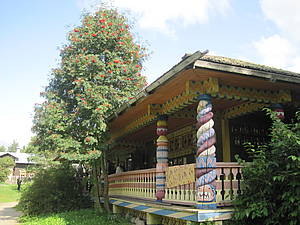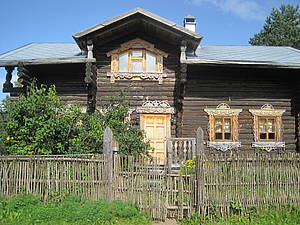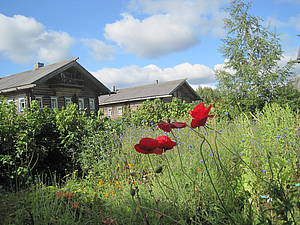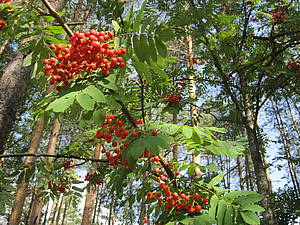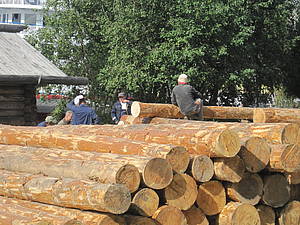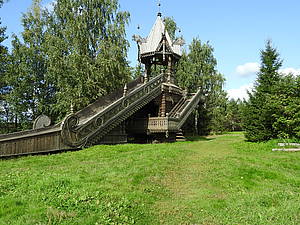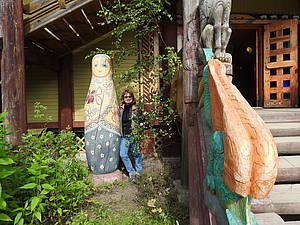 Stop 2 – Kizhi Island in Onega Lake – open air museum of wooden architecture, UNESCO protected. Two wooden churches, one of them just being renovated by special technologies. The older one was built in 1714 from pine wood without use of a single nail. Unspoilt nature. A little concert by local monchs.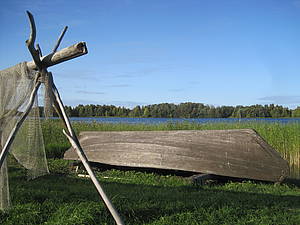 Stop 3 – Goritsy – Monastery of St. Cyril on the White Lake - From 15th to 17th Century the second richest monastery in Russia - the spiritual and cultural center of the Russian North. I was very much impressed by the collection of icons and rare manusripts and chronicles. Guests of the monastery were not only pilgrims from all over Russia, but also the Russian tsars including Ivan the Terrible who throughout his life generously bestowed upon the monastery, believing himself obliged him to his birth. During the sail we could also see two churches which just about defied the elements in the middle of lake or canal.

Stop 4 – Uglich - an ancient town with more than 1000 years of history. The main monuments on the Kremlin (fortress) grounds are Transfiguration Cathedral and Church of St. Dmitry on the Blood, which was built on the spot, where prince Dmitry, son of Ivan the Terrible, was murdered. After Ivan's death, his youngest son Dmitry with his mother was banished to Uglich in 1584. In 1591, 10-year-old boy was found dead with his throat cut in the palace courtyard. Suspicion immediately fell on Boris Godunov, the advisor to the present tsar, Dmitry´s elder brother Feodor. Official investigators however concluded that Dmitry's death was an accident. There are various versions still circulating among historians what had really happened in the courtyard, some believed that the boy escaped. The investigators punished only the cathedral bell which had rung the news of Dmitry´s death. They cut its "tongue" and "exiled" it to Siberia. As Dmitry was the last scion of the ancient Rurik Dynasty, his death was followed by dynastic and political crisis known as the Time of Troubles. People readily believed that Dmitry was still alive and supported several False Dmitrys (False Dmitry I, False Dmitry II, false Dmitry III) who tried to grab the Muscovite throne. The following dynasty of Romanov tsars canonized the martyred tsarevich and turned Uglich into a place of pilgrimage.
Our pretty guide who took care of us during all the cruise (her name was Mariana, by the way) posed for a photo in a dress of Russian tsarevitza.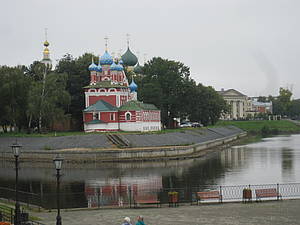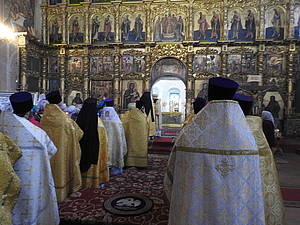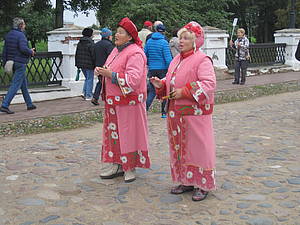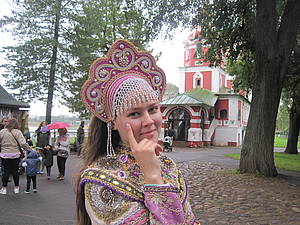 Moscow impressions
Moscow surprised us. No peeled facades, everything painted, no graffiti, clean streets, no rubbish around, everything was "picobello".
We made a sightseeing of traditional well know sights on hop on hop off bus.
The Moscow Kremlin is one of the largest fortifications in the world and the largest inhabited fortress in Europe. It includes the Assumption Cathedral (Uspenski Sabor), the Church of the Annunciation of our Virgin Mary, the Archangel Michael Church with tombs of Russian rulers and the seat of the government of the Russian Federation. The spacious Red Square is the seat of Lenin mausoleum and of the St. Basil´s Church with typical colorful round towers.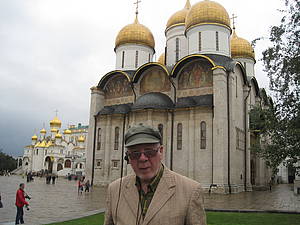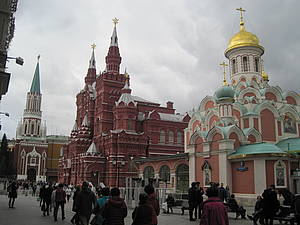 We saw the guards in front of the Kremlin which are changing every hour. Our guide explained that the selection of these young men is being made according to their appearance. They have to be tall and slim (which would not be surprising) and they have to have blond hair and blue eyes (which was surprising and sounded discriminatory, to say the least). The Tsar Cannon which was never used in a war and Tsar Bell which has never been rung belong to the very photogenic sights in Kremlin.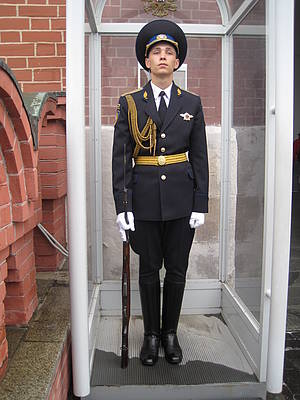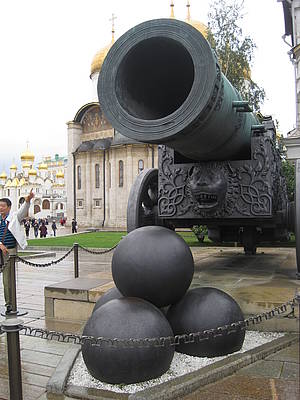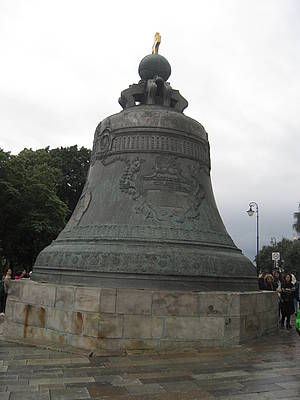 There are many statues in Moscow - Pushkin, Lenin, Marx, Dostoevsky, Tretyakov, various tsars and others - they do not seem to compete with each other.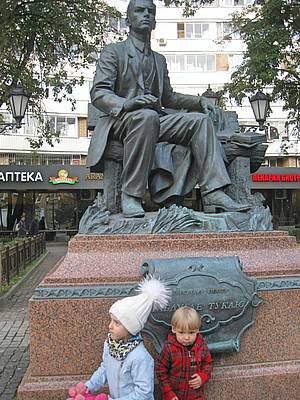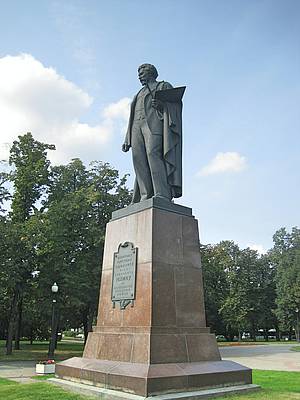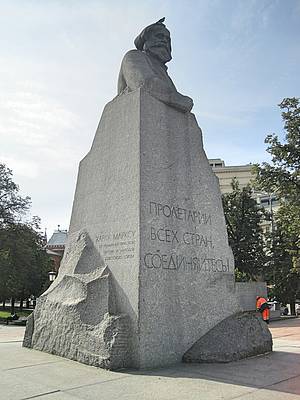 Lively life in the streets – Moscow celebrated on the weekend when we were there 870 years of its foundations. There was music in the streets everywhere and special attractions as well – e. g. water skiing in the pool placed in the street, lessons of writing by quill pen, historical figures starting with Petr I, Catherine II, Lenin and Stalin were not missing either.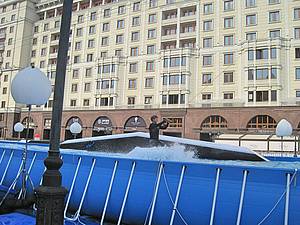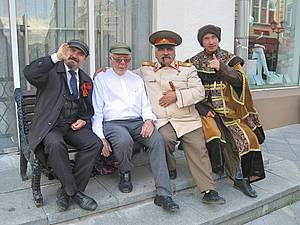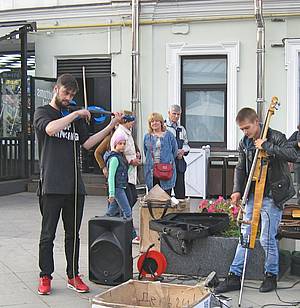 One of the days we made a long walk from our hotel to the newly built Cathedral of Christ the Saviour. This cathedral has a dramatic history. When Napoleon retreated from Moscow in 1812, Alexander I had intention to build as thanks to God a new cathedral in neoclassical style with freemasonory symbols. The selected place, the Sparrow Hills showed as insuitable because of the quality o the soil. Alexander I died and the new Tzar Nicholas I deeply disliked neoclassicism and freemasonory. He called in a new architect who projected a building similar to Hagia Sofia in Constantinople. The scaffolding was taken of after more than 40 years in 1860, the interiors were painted and decorated till 1882. The cathedral was consecrated on 26 May 1883, the day before Alexander III was crowned. Although Tchaikovsky´s 1812 Overture was written with the building's completion in mind, it had to have its world premiere in a tent outside the unfinished church in August 1882. The tumultuous history of the cathedral continued. After Lenin´s death, Stalin accepted the proposal that the gold used in the cathedral could find a better utilization for modernization of the country and the cathedral was demolished in 1931 with the aim to build in its place Palace of the Soviets. Lack of funds and 2nd World War stopped this project. After the 2nd World War, in the era of Nikita Chruschev, the empty foundation of the Palace of the Soviets was, in 1958, made into an open-air swimming pool with heated water called Moscow Pool which existed from 1958 until 1994. In 1994 the pool was demolished and the construction of the new Cathedral of Christ the Saviour was started. About one million Muscovites donated money for the project. The Cathedral was consecrated in 2000. In 2012, five members of the rock band Pussy Riot staged a performance in the Cathedral as a protest against Putin whom they consider to be a dictator and his connection with orthodox church. They were arrested and condemned to jail, released on amnesty at the end of 2013.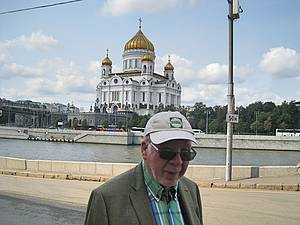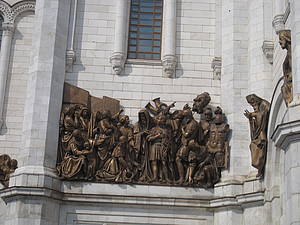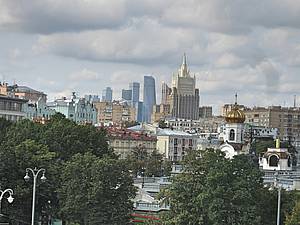 The biggest mall in Moscow is GUM, earlier Gosudarstvenyj Univermag, presently Glavnyj Univermag (Gosudarstvenyj means belonging to state, and of course, it does not belong to the state any more). It is possible to buy everything you can think of in this mall (at high prices), it is a symbol of luxuries which Muscovites can enjoy. It also contributes to the scene by various exhibitions. During our visit a big space was dedicated to the construction of the longest bridge in Russia (4 lines for cars and 2 railway lines) which will span the Strait of Kerch between Crimea and Taman Peninsula in Krasnodar Krai in Russia. It should be finished by 2018.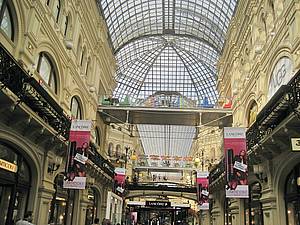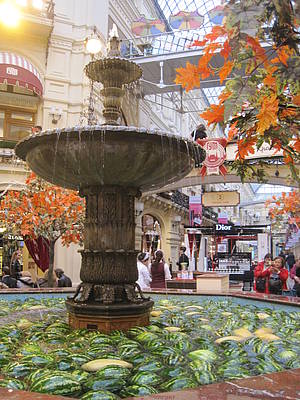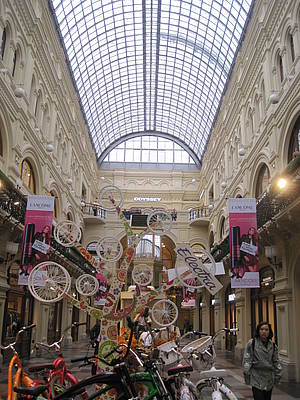 Lunch in Erwin Restaurant on the embankment of the river Moskva. The subtitle of its name is River-Sea-Ocean and it is a renowned fish restaurant with original decoration inside and outside. The amazing huge bowl full of ice on which all possible fruit de mer were waiting to be consumed.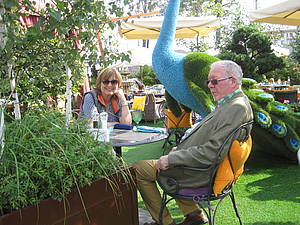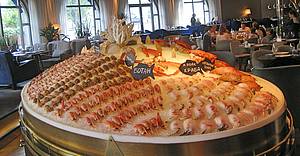 Bolshoi Theatre (Big Theatre)– unfortunately we could not see any performance as the tickets were hopelessly sold out – so we just visited a souvenir shop inside and admired all settings in the Theatre Square.

It was very nice to meet my old friend Natalia, with whom and her husband Kolya we had shared good and bad during our stay in Angola at the end of the seventies. She showed us around and we could share the old memories about what the life had given and taken from us.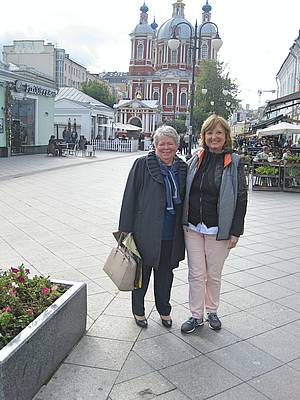 Thanks to Natalia we could also easily travel by metro to various metro stations which remind an art gallery. It was opened in 1935, nowadays it has 206 stations, the deepest is 84 meters deep. Unfortunately also this metro fell victim to three terrorist bombings in the years 1977, 2004, 2010.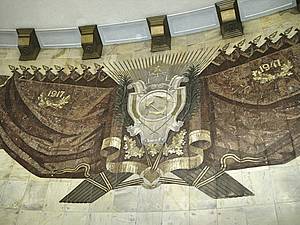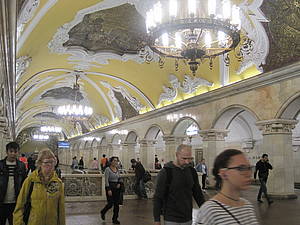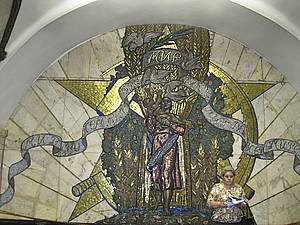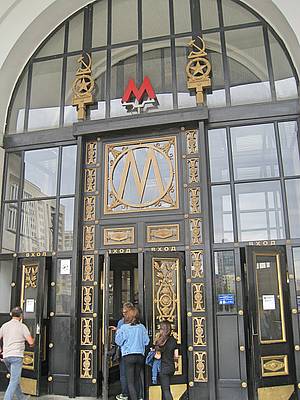 George wanted to visit Gorky park (opened 1928, favourite place of Moscow children and youth) which is mentioned in our favourite song Wind of Change by rock group Scorpions. The lyrics of the song had a very strong meaning as it was released in 1991 just after an unsuccessful coup d´etat in Moskow. The song made the German group famous all over the world.
"I follow the Moskva and down to Gorky Park, listening to the wind of change.
An August summer night, soldiers passing by, listening to the wind of change…
The world is closing in and did you ever think, that we could be so close, like brothers…
The wind of change blows straight, into the face of time, like a storm wind that will ring
the freedom bell for peace of mind. Let your balalaika sing, what my guitar wants to say...
Refrain:
Take me to the magic of the moment, on a glory night, where the children of tomorrow share their dreams, with you and me, with you and me."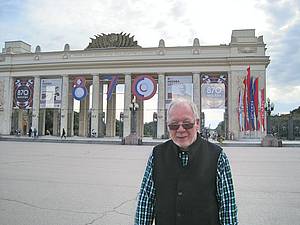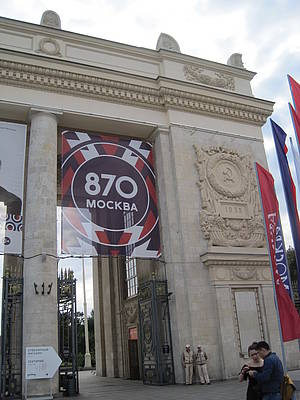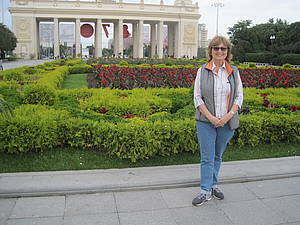 For those who still do not have enough:


Interesting names and events in Russian history
It would be too long and complicated story to describe history of Russia. I myself have realized whilst reading about it that I am acquainted with some names and concepts but I was not able to classify them to the correct time and context.
Arrival of Cyril and Methodeus in Great Moravia from Byzantinum and the foundation of Kievan Rus by electing Rurik a ruler (knyaz) of Novgorod happened in the same year - 862. Slavonic nations start to develop on importance and strentgh (?)
Alexander Nevsky, prince of Novgorod, Kiev and Vladimir in 13th century
He seemed to consider Mongols of Golden Horde smaller threat to the way of life in his realm (much influenced by Orthodox Russian Church) than Northern Crusaders (Teutonic Knights and the Swedes) who tried to grab his land and convert Russians to Roman Catholicism. In the fights against them Alexander achieved with surport of Golden Horde major victories. Some historians see Alexander's choice of cooperation with Golden Horde and refusal of cooperation with western countries and church as an important reaffirmation of East Slavs' Orthodox orientation. Alexander Nevsky was canonized later on in 16th century by Metropolite Macarius.
Ivan III the Great
He ruled in the second half of 15th century – contemporary of the Tudors, ruler of Grand Duchy of Moscow, gatherer of the Ruslands, complete defeat of Tatars of Golden Horde.
Ivan IV the Terrible
(Groznyj in old Russian does not mean that he was cruel and terrible, it means more something like powerful). A grandson of Ivan III, founder of Tsardom of Russia (1547-1721). Two weeks after his coronation, he married his first wife Anastasia Romanovna from Romanov Family, who became the first Russian tsaritsa. The professor from Nizny Novgorod University who was giving lectures on our ship, was of the opinion, that he was certainly not so terrible, or not more than the others, he mentioned that he had let to execute only 562 people. He was having a grunge especially against boyars and did not trust them, as they treated him and his brother horribly during their childhood.
Boris Godunov
He got to the throne in the Time of Troubles (famine, desorganisation which folowed wars led by Ivan the Terrible, death of Ivan´s childless son Feodor and a murder of his step brother Dmitry). He ruled first as de facto regent and then as the first non-Rurikid tsar from 1598 to 1605. Pacific and prudent foreign policy,import of foreign teachers on a large scale, permisson of Lutheran churches, intelectual progress of Russia by educational reforms. But: a decree which forbade peasants to transfer from one landowner to another (which they had been free to do each year around Saint George´s Day in November), thus binding them to the soil and anchering even more the surfdom. In the arts: drama Boris Godunov by Alexander Pushkin, opera Boris Godunov by Modest Mussorgsky.
Stroganovs or Stroganoffs
Everybody knows Beef Stroganov, a Russian delicious speciality. But where the name of the dish comes from? Stroganovs were a family of highly successful Russian merchants, industrialists and statesmen, in the time of the reign of Ivan the Terrible they were the richest businessmen in the Tsardom of Russia. They invested into the conquest of Siberia, reconquest of Moscow from the Poles but also founded a Stroganov School of icon-painting. Beef Stroganov consists of first class beef with mushrooms and cream sauce – it tastes excellent.
Romanov Dynasty
1613 when the chaos of Time of Troubles ended and the Poles were expelled from Moscow, a national assembly, composed of representatives from fifty cities and even some peasants elected Michael Romanov, the young son of Patriarch Filaret to the throne. The Romanov dynasty ruled Russia until 1917.
Stenka Razin
The originally folk song about Stenka Razin sailing on the river Volga is known under the title Volga Volga mat´ rodnaja (Volga Volga our mother). The song gave the title to the famous Soviet musical Volga-Volga and its melody was then used in the song The Carnival Is Over which placed The Seekers at No. 1 in 1965 in Australia and the UK. Stenka Razin was a Cossack leader who incited peasant uprising and replaced local government with Cossack rule, fighting at the beginning with much success mainly against boyars, only later on also against the Tzar. In the end, the rebellion was crushed in 1670 and Stenka Razin was quartered on one of the squares of Moscow.
Peter I the Great
He played a major role in bringing the country into the European state system. Russia had become the largest country in the world, stretching from the Baltic Sea to the Pacific Ocean. He assumed the title of emperor and Russian Tsardom became the Russian Empire. He founded Saint Petersburg, "a window opened upon Europe" and made it a capital of Russia in 1703. After his death 1725 there was a number of throne successors, interestingly 4 of them women (Catherine I, Anna, Elisabeth Petrovna, known as Yelisaveta, and Catherine II).
Yelisaveta, the Empress of Russia from 1741 – 1762
Interesting facts about her reign:

She encouraged Mikhail Lomonosov´s establishment of the University in Moscow and Ivan Shuvalov´s foundation of the Imperial Academy of Arts in Saint Petersburg.
She financed by exorbitant sums of money in grandiose baroque projects of her favourite architect Bartolomeo Rasterelli: Peterhof, Tsarskoye Selo (nowadays Puschkin), Winter Palace (now Hermitage) and Smolny Cathedral in Saint Petersburg.
She also became famous for throughout and beyond Russia for organizing balls, usually two balls a week. One would be a large event with an average of 800 guests, most of them leading merchants, members of the lower nobility, and guards stationed in and around the city. The other ball was a smaller affair reserved for her closest friends and the highest echelons of nobility. These balls began as masked balls but evolved into the famous Metamorphoses Balls. The guests were expected to dress as the opposite sex, with Elizabeth often dressing up as Cossack or carpenter in honour of her father Peter the Great who learnt a metier of carpenter in Holland. The costumes not permitted were those of pilgrims and harlequins, which the Empress considered profane and indecent respectively. Most members of court disliked these balls since most looked ridiculous, but Elizabeth adored them. As advisor to Catherine the Great Potemkin stated later on, this adoration was due to the fact that she was "the only woman who looked truly fine, and completely a man… as she was tall and powerful, male attire suited her."
Catherine II the Great – 1762-1796
Interesting facts about her reign:
She married Peter, the German heir to the Russian Crown. He succeeded to the throne as Emperor Peter III and Catherine became empress consort. However, she found him incompetent and presumably consented to his murder: then she became ruler herself.
She had 22 male lovers throughout her life, some of whom would reap political benefits from their relationship with her, and many of whom were significantly younger than her. (Messalina of the Newa). Known are the stories about her Erotic Cabinet, which got lost during the 2nd World War.
Victories over Ottoman Empire allowed her to obtain access to the Black Sea and to incorporate present-day southern Ukraine, she annexed the Crimea in 1783.
She encouraged the migration of the Volga Germans – farmers from Germany who settled mostly in the Volga River Valley region, who helped the modernize the sector and introduced numerous innovations regarding wheat production, flour milling, tobacco culture and sheep raising.

She issued the first government paper money and established several banks.
The Hermitage Museum began as her personal collection. She wrote a manual for the education of young children based on the ideas of John Locke. She founded the famous Smolny Institute, which admitted young girls of the nobility. Her favourite advisor was Grigory Potemkin.
Grigory Potemkin
He was a nobleman and military leader, probably one of the Catherine´s lovers. He became the governor-general of Russia´s new southern provinces which became basis for his new Black Sea Fleet. His rule in the south is associated with the Potemkin villages, a largely fictional ruse (trick) involving the construction of painted facades to mimic real villages, full of happy, well fed people, for the visit of Catherine to show her how the region prospers under his rule. . He died during negotiations of the Treaty of Jassy, which ended a war between Russia and the Ottoman Empire that he had overseen. A century after his death, his name was given to the Battleship Potemkin, which featured in the 1905 Russian Revolution and was fictionalized in Battleship Potemkin, a silent film by Sergey Eisenstein.
Alexander I – emperor during the Napoleon wars
He switched alliances with Russia back and forth four times in 1804-1812 from neutral peacemaker to Anti-Napoleon to an ally of Napoleon, winding up in 1812 as Napoleon´s enemy. He and Napoleon could never agree, especially about Poland and the alliance collapsed by 1810. However, the invasion of Russia in 1812 was a catastrophe for Napoleon and his invasion troops. After the final defeat of Napoleon in 1815 Alexander let himself to be praised as the "saviour of Europe" and presided over the redrawing of the map of Europe at the Congress of Vienna which made him the king of Congress Poland. He formed the Holy Alliance with Austria and Prussia to suppress revolutionary movements in Europe that he saw as immoral threats to legitimate Christian monarchs (he also helped Austria´s Metternich). Russian Empire played a leading political role as late as 1848, but its retention of serfdom precluded its economic progress. The decline of serfdom in Western Europe started already at the end of 14th century, it was abolished in the Austrian Empire including Bohemia by Serfdom Patent issued by Joseph II in 1781. In Russia, however the serfdom lasted till 1861 when it was abolished by Alexander II.
Decembrists (Děkabristi)
1825 revolt of a small circle of liberal nobles and army officers during the rule of Nicholas I, younger brother of Alexander I. Decembrists wanted to install Constantine, a brother of Nicholas I as a constitutional monarch (Constantine and Constitution). The revolt was easily crushed and Nicholas turned completely away from liberal reforms and back to the reactionary doctrine "Orthodoxy, Autocracy and Nationality". Most of the Decembrists were sent to exile in Siberia where they had an important influence on local population and development of the region. Puschkin was known to have friendly relations with some Decembrists since his early youth.
Nihilism and anarchism in Russia
The term nihilism was originally used by Ivan Turgenev in his novel Fathers and Sons. Nihilists favoured the destruction of human institutions and laws, based on the assumption that they are all corrupt. The anarchistic views followed and spread in the Russian society, we would probably called them terrorists today. It is a paradox that Alexander II, the one who cancelled serfdom, was assassinated by one of the anarchist in 1881.
Nicolas II – 1894-1917
Some interesting facts about the last tsar:
Interior Policy: "I want everyone to know that I will devote all my strength to maintain, for the good of the whole nation, the principle of absolute autocracy, as firmly and as strongly as did my late lamented father."
Foreign policy: Also here he followed his father, pursuing a policy of general European pacification which culminated in the famous Hague Peace Conferences (1899 and 1907). The first conference suggested and promoted by Nicholas II, was convened with the view of terminating the arms race, and setting up machinery for the peaceful settlement of international disputes. The results of the conference were less than expected due to the mutual distrust existing between great powers. Nevertheless, the Hague Conventions were among the first formal statements of the laws of war. In 1901 Nicholas II was nominated for the Nobel Peace Prize for the initiative to convene the Hague Peace Conference and contributing to its implementation.
However, 1st World War prevented the next Hague Conference. The Archduke Franz Ferdinand of Austria-Hungary was assassinated by Bosnian Serb student in Sarajevo on 28th June 1914. An ultimatum by Austro Hungary followed on 23rd July to Serbia, which was considered a Russian client-state. Tsar Nicholas II mobilised Russian forces ostensibly to defend Serbia and Russian interests in the Balkans from Austria-Hungary on 30th July. Declaration of mobilization by Russia was one of the critical decision of the July crisis, which came at the moment when the German government had not yet even declared the state of impending war. However, Germans responded to Russian mobilization with their own mobilisation and declaration of war on 1st August 1914. So quickly a war can start – military and civil casualties of this deadly war amounted to 41 million. During the war many rules laid down by the Hague Conventions had been violated. The Geneva Protocol to the Hague Conventions was signed in 1925. Its single article permanently bans the use of all forms of chemical and biological warfare.
Grigori Rasputin
A mystic and professed holy man, a chief advisor to Alexandra, wife of Nicolas II. He won the confidence of Alexandra by acting as a healer for her son Alexei who suffered from haemophilia. However, he was known as a womanizer - sometimes he took advantage of women during his mystical practices and convinced them to have a sexual intercourse with him. Unfortunately for further developments, Nicolas II refused to cooperate with the Duma (national legislature) and listened less to experts than to his wife´s advisor. Rasputin was assassinated in 1916 by a group of nobles led by Prince Felix Yusupov, who decided that his influence over Tsarina had made him a threat to the empire.
Great October Revolution
Developments which led to the Great October Socialist Revolution - a little summary

The backwardness of the Russian system and Russia as a whole together with suffering of population at the beginning of the 20th century increased by the war culminated by series of events:
Bloody Sunday January 1905 – shooting by Cossacks into crowd lead by Father Gapon who brought a petition to the tsar – tsar was forced to issued October Manifesto, which conceded the creation of a national Duma for legislature, but the radical forces of the society were not to be placated so easily any more
February 1917 – a demonstration of ninety thousand female workers in Petrograd were dispersed by shooting and the unrest culminated in general strike, Nicholas II had to abdicate. Duma filled the vacuum by declaration of Provisional Government (headed by Kerensky)
November 1917 (October as per Russian calendar) – Germany provided a sealed train to carry Vladimir Iljich Lenin back to Russia from his exile in Switzerland. The Soviets (councils of workers and soldiers´deputies) seized control of the government and drove Kerensky and moderate provisional government into exile. A Civil war between Whites (Mensheviks) and Reds (Bolsheviks) lasted 4 years. The Bolsheviks fought against the opponents of their regime and at the same time against several expeditionary armies sent by Allied powers to support the anti-communist forces. By 1921 they had defeated their internal enemies and brought most of the newly independent states under their control. Both sides committed brutal atrocities against civilians. Tzar Nikolai II with his wife and children were executed in Ekaterinburg in 1918.
Figures from the recent history (good to remember before going to Russia):
2nd World War
1938-39 – Soviet Union successfully fought against Imperial Japan in the Soviet-Japanese Border Wars which led to Soviet-Japanese neutrality – the tense border peace lasted until August 1945
1939 – Molotov-Ribbentrop Pact, a non aggression pact between the Soviet Union and Nazi Germany dividing Eastern Europe into two separate spheres of influence was signed
22nd June 1941 – Axis forces led by Germany swept across the Soviet border
1941 –counterattack which threw German forces from Moscow, February 43 – Soviet victory in the battle of Stalingrad, end of 1943 – German siege of Leningrad broken, end of 1944 – front moved beyond the Soviet frontiers into eastern Europe, May 1945 – the Soviet army captured Berlin. The Soviet Union lost around 11 million soldiers and 20 million of civil population in the conflict.
Summer 1945 Potsdam conference – conflict between Stalin and U.S. president Harry Truman over the future of Eastern Europe. Russia had suffered three devastating Western onslaughts in the previous 150 years during the Napoleonic Wars, the First World War and the Second World War and Stalin´s goal was to establish a buffer zone of states between Germany and the Soviet Union. Truman charged that Stalin had betrayed the Yalta agreement - that was the beginning of the Cold War.
1949 – United States sponsored foundation of the North Atlantic Treaty Organization (NATO)
1955 – the Soviet Union established an eastern counterpart to NATO, the Warsaw Pact
1979 – start of 9 years Soviet War in Afghanistan
1985 – 91 Gorbačov era – Collapse of the Soviet Union 1991
1991 – 99 President Boris Jelcin
1993 – Constitution of Russian Federation
2000 – 2008 – Vladimir Putin
2008 – 2012 – Dmitrij Medvedev (Vladimir Putin prime minister)
2012 – 2018 – Vladimir Putin
And at the end some of our portraits showing how we enjoyed our holiday.