Calcutta (Kolkata) – conference and sightseeing 2007
We went to Calcutta, a former "Pearl of Bengal" to participate in an Asia Pacific Conclave on Coal Combustion Products: Technology and Management. George was invited as one of the main speakers and it was amazing how many people knew Dirk and what we were doing even in this eastern part of India.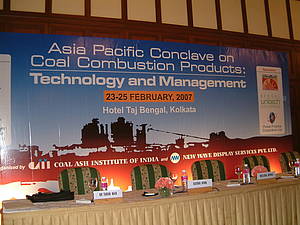 Hotel Taj Bengal
We found some time for sightseeing and were surprised. As some places have a sort of magic sound of beauty proceeding their visit, Calcutta in my perception was supposed to be one of the poorest cities in India with poverty, beggars and filth all around. Maybe the reason for this prejudiced opinion was the knowledge about the long term governing of West Bengal by the Left Front, dominated by the Communist Party of India for nearly three decades (the world´s longest-running democratically elected communist government), which was always shown as a disaster in the press, and although the pictures of Mother Theresa taking care of the poor and sick, let the impression that there must be only the poor and sick in Calcutta. But I was wrong.
Some facts from the history
The Bengal was annexed by British East India Company in 1757. From here the Company pursued a monopoly on production and export of opium from India. The Company bought opium from local traders and later directly from farmers and sold it at auctions in Calcutta. From there it was smuggled to Canton in China which eventually led to the Opium Wars between Britain and China.
Undoubtedly, in its history, Calcutta suffered two major blows: the first one when its status of Capital of British India was abolished and the capital was moved to Delhi in 1911. Calcutta continued thriving as a trade and industrial centre and as an important place for breeding ideas about independence of India. After the Partition of 1947 it suffered another blow as it was separated from some of the important raw materials like jute which remained in Pakistan. The city was now really situated at the outskirts of the country and started to decline.
However, what we could see during our visit was a city after resurrection which started in the middle of nineties. To begin with, it was less crowded than Mumbai and it was also cleaner. The British who kept it as a capital for more than 150 years had it built in well planned lay out with a lot of green parks and wide streets, the orderly city planning was not kept later on, but some of it still remained. Due to abundant public transportation including metro, privately owned vehicles are not as common as in other major cities which brings some benefits. For short trips the public prefers auto rickshaws, cycle rickshaws or even hand-pulled rickshaws. The yellow metered taxis are almost all antiquated Hindustan Ambassadors. We used one of them on the way to the airport and became very much worried when the car stopped and refused to continue at the outskirts of Calcutta. In the end the taxi driver who remained absolutely calm managed to repair it by his own ability and we could make it to the airport in time.
Visited sights
Calcutta Jain Temple is dedicated to Pareshnath, the 23rd Jain Tirthankar. The complex is huge and subdivided into 4 temples. It was built by Marwari Shrimal Jain in 1867 and a lamp which burns with ghee in sanctum sanctorum has been continuously burning ever since. The temple has an impressive design and rich decoration with marble inlays, mirrors and paintings. It is situated into a beautiful well kept garden with water reservoir with swimming fish, a colorful fountain and a small stream.
I have described in other chapters our visits to Jain temples in various Indian cities, but in Calcutta we had a very good guide who was able to explain the essence of Jainism to us.
The word Jain comes from Jina, meaning spiritual conqueror. Jinas, or Tirthankaras (Ford Makers, because they can provide the crossing point from samsara to liberation) are religious teachers who have reached enlightenment and omniscience. Jains believe that already 24 Tirthankaras were born and the last one called Mahavira is the first tirthankara in the recorded history (born 599 before Christ).

The principle of Jain belief is that soul of every living thing is trapped in a cycle (samsara) of birth, death and rebirth and suffers because it is unaware of its true nature – omniscience and bliss. Only awareness of the soul´s true nature provides moksha, release from samsara and the liberated soul undergoes no more incarnations nor further worldly entrapment. Moksha leads to a state called siddha (the liberated soul) which has no physical body and dwells at the very top of the universe in a state of omniscience and bliss.
To achieve that is possible only to selected ones – ascetics. For laymen, the most important rules to be kept are not to kill, not to lie, not to steal, chastity (faithfulness to one´s wife), and no possession of excess worldly goods. Six occupations are allowed to Jains, government work, writing, arts, farming (permissible since eventual destruction of life thereby is unintentional) and commerce. In the practice, however, the most Jains in India are successful traders and financiers.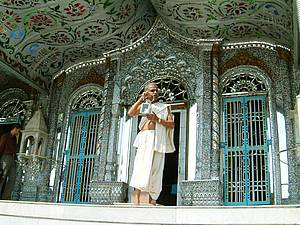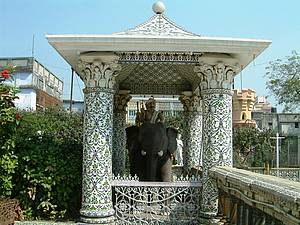 Pareshnath Jain Temple
Calcutta is a city with a number of Christian churches – one of the most popular ones is St. John´s Church. It was completed 1787 by British East India Company. The architect James Agg combined brick and stone which was not a common material in the late 18th century Calcutta. The stones came from the medieval ruins of Gour and were shipped down the Hooghly river. There is a cemetery around the church with interesting grave stones and mausoleums including obelisk built later in the memory of people who died in the so called Black Hole, a small dungeon where in the year 1756 Nawab of Bengal who did not like the further fortification of the William Fort by the British, locked into a small space overnight around 140 British, Dutch and Portuguese soldiers out which only around 20 survived till the next morning because of extreme heat and lack of air and space. This event itself and the number of victims have been set in doubt by some historians.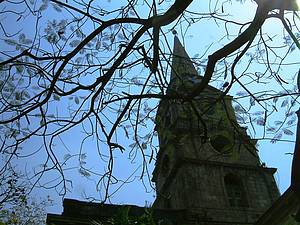 St. John´s Church
Howrah Bridge over the river Hooghly, is the 6th longest suspended cantilever bridge in the world (when commissioned in 1943, it was the third longest one). In 1965, the bridge was renamed Rabindra Setu, after the great Bengali poet Rabindranath Tagore, first Indian Nobel laureate for literature, whose museum we have also visited. The author of Gitanjali with its profoundly sensitive, fresh and beautiful verse became the first non-Euroopean to win the Nobel Prize in Literature in 1913.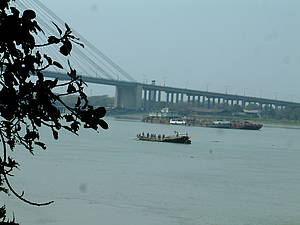 Howarth Bridge over Ganges River
The Victoria Memorial is a large marble building built between 1906 and 1921. It is dedicated to the memory of Queen Victoria and is now a museum. Lord Curzon Viceroy of India, suggested the creation of the memorial after the death of the Queen in 1901. However, it was finished only after twenty years, when Calcutta was not capital of India any more. The surrounding gardens cover an area of 64 acres. On a bridge there is a bronze statue of Victoria seated on her throne wearing the robes of the Star of India, a new order of knighthood to honour Indian Princes and Chiefs, as well as British officers and administrators who served in India founded by Victoria in 1861.

Victoria Memorial

Centre of Mother Teresa. She became an example of self sacrifice and life lived fully in spite of difficult circumstances. Born in Skopje, she moved as an eighteen years old girl to Ireland to enter the order known as Sisters of Loretto. She sailed later to Loretto community in Calcutta. 1950 she became a member of the order Missionaries of Charity and dedicated all her forces to taking care of the poorest of the poor. She was awarded Nobel Peace Prize in 1979. She died 1997 and was beatified 2003, giving her the title "Blessed Teresa of Calcutta. At the time of her death, Mother Teresa's Missionaries of Charity had over 4,000 sisters, and an associated brotherhood of 300 members, operating 610 missions in 123 countries. These included hospices and homes for people with HIV/AIDS, leprosy and tuberculosis, soup kitchens, children's and family counseling programs, personal helpers, orphanages, and schools. The Missionaries of Charity were also aided by Co-Workers, who numbered over 1 million by the 1990s. The centre concentrates on promotion of authentic knowledge and devotion to Mother Teresa. Besides some photos and everyday objects there was not much to be seen of her and her achievements, but we still had to think of her with love as somebody who might made many mistakes and be wrong in some views but still – no doubt that she sacrificed her life to the others.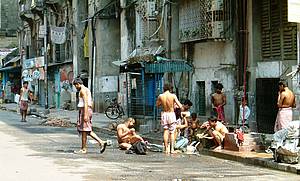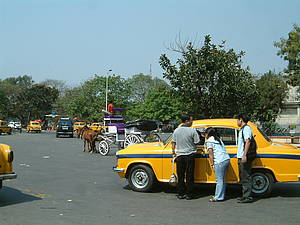 In the streets of Calcutta