21st Century - new translations
- Michelle Marly
(pseudonym of German novelist Micaela Jary)
Mademoiselle Coco and the Fragrance of Love
translated from German original Mademoiselle Coco and der Duft der Liebe into Czech
Czech title: Mademoiselle Coco a vůně lásky
Publishing House: Ikar 2019
Number of pages: 384
Hard Cover
ISBN: 978-80-249-3930-8
Paris 1919. The novel starts at the moment when Coco Chanel succeeded in building up a successful fashion salon. But when her lover Boy Capel unexpectedly dies in a car accident, she is completely paralyzed with grief. Only a plan to create a perfume in memory of her love evokes in her a new energy. In search of a suitable fragrance, she becomes acquainted with the charismatic prince Dimitri Romanov. Together with him, she travels to the south of France, the cradle of all the major fragrances, and soon comes on the trail of a fragrance of love, which has become the most famous perfume in the world, Chanel No. 5. The story of a unique woman and a mistress of outstanding personalities of 20th century – among others of Igor Stravinsky and Pablo Picasso.
- Sebastian Niedlich:
And God Said: Let there be Jonas
translated from the German original: Und Gott sprach: Es werde Jonas
published by dotbooks GmbH, 2015, into Czech

Czech translation: A Bůh pravil: budiž Jonáš
Published by Ikar 2018
Hard cover
Pages:
ISBN 978-80-249-3592-8
Sometimes a person has a bad day. Sometimes he/she has a terribly bad day. And sometimes, the fallen tip of the church tower crashes him. That's exactly what happened to Jonah, and that's how the whole story could end up.
But God (the older of us remembering that He is Almighty) has other plans with him - for Jonah is the new Messiah. So he has risen from the dead. Doctors, media and an ever-growing number of enthusiastic believers are getting inflamed.
And Jonah? He really wants only to have peace. And by no means he wishes to do miracles! In the end it will all turn out in a completely different way…
- Anna Iris - Travels in Time
Published in Czech under the title Cesty časem
Publishing house The Gate (Brána) 2018
240 pages
Hard cover
ISBN:978-80-7584-033-2

To be able to travel in time is a gift but it can also be a burden. The main character of this novel knows about it more than anyone else. She is released from the psychiatric hospital and tries to establish new existence in Southampton. She meets Ellie and Steve, two young people who work in the local bookstore named Travels in Time after a novel by a famous writer. Because of her gift Carrie does not really see Ellie for the first time, but she better keeps this secret to herself. She realizes that Ellie is a former girlfriend of Anthony, the director of the clinic where Carrie was hospitalized. She is able to look into Elli's past and tries to help her with her psychological problems. Eventually, Anthony himself, although originally reluctant, accepts Elli in his clinic. But the complicated network of secrets and intrigues is coming up to surface…As time goes by, Carrie feels that this will not go well. What's behind Elli's psychic breakdown? And can Carrie, despite her precious gift, be incorporated into normal life?

This novel is about friendship and hope, but also mistrust and betrayal ... and about travels in time which can even show the approaching death.
- Sheila O´Flanagan - The Missing Wife
(publisher: Headline Review 2016)

translated from English into Czech under the title Pohřešovaná manželka

Czech Publisher: BRÁNA (The Gate) 2017, hard cover, 320 pages
Imogen´s life has been influenced by tragic death of her father before she was born and by too many changes in her childhood. When she marries Vince, it looks like that she has finally found the stability she was looking for so long and that they are happy together. However, things are not always what they seem to be… To be herself again, she has to disappear without saying a word to anybody. But will she be able to escape her past?
The story takes place in Ireland and France (Provence and Basque Country) with beautiful descriptions of landscapes and surroundings.
- Bob Flaws: Endometriosis, Infertility and Traditional Chinese Medicine (A Guide)
Diagnosis, prevention, diet, exercise and relaxation therapy according to the traditional Chinese medicine

Translated from English into Czech under the title: Endometrióza a neplodnost – Kniha pro ženy, které touží po miminku

Czech Publisher: Anahita 2016
Although the book is based on American realities, Bob Flaws is a real expert who combines Chinese and European medicine to address the problem of endometriosis and infertility - a problem that is as hot in the US as in the Czech Republic.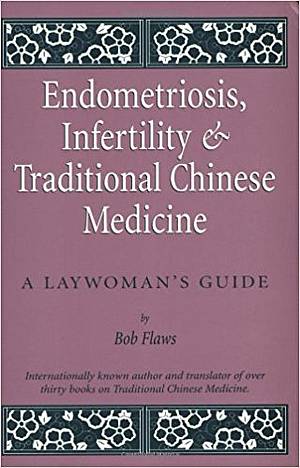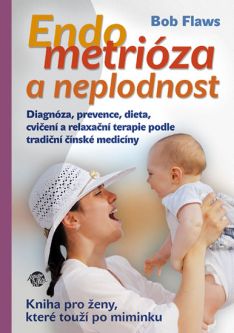 - Bérriedale-Johnson, Michelle: The Everyday Wheat-free and Gluten-free Cookbook
(Publisher Grubstreet 1998)
translated from English into Czech under the Czech title
Vaříme a pečeme bez lepku – Recepty na každý den
Czech Publisher: Brána (The Gate) 2016, 240 pages
The cookbook contains around 200 recipes using special gluten-free flours, breads and pasta now available at the market and has been written not only for coeliacs but also for other people who are concerned about healthy life style and like to experiment with something new.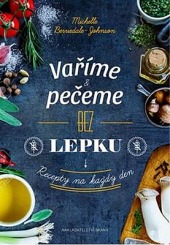 - Sandra Jagemann, Eva Christiane Wetterer: DETOX – Easy and Delicious
36 cards with recipes

Translated from German DETOX – Leicht und köstlich, Königsfurt Urania Verlag 2015 into Czech under title 36x Detox – snadno a lahodně
Czech Publisher: Synergie 2016
Do you want to remove harmful toxins from your body and experience the flow of energy, joy and health? Would you like to feel fresh again and full of strength?
Detoxification is the ideal way to get into a great form and do something for your health. The 36 simple recipes for smoothies, soups and light meals are easy to prepare. Additionally, you can take selected cards anywhere with you or give them to your loved ones to help them to improve their health. You can also clean your body by clearing your mind, so on each card you will find, besides recipes, the quotation for the day and useful tips for a healthy lifestyle.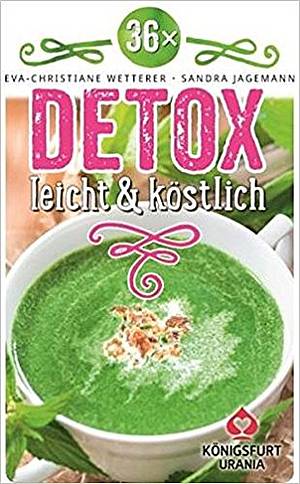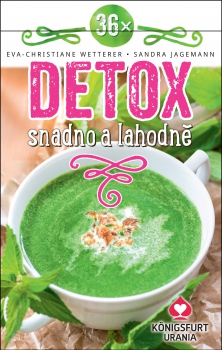 - Concetta Bertoldi: Do Dead People Watch You Shower?
and Other Questions You've Been All but Dying to Ask a Medium
(Publisher: Harper Collins 2007)
Translated from English into Czech under the title: Jaké je to v nebi? Vše, co byste chtěli vědět o posmrtném životě.
Czech Publisher Noxi 2015, ISBN: 978-80-8111-262-1)

Summary:
Medium Concetta Bertoldi answers all your questions about life after life
. . . from the irreverent:
(If the dead are always with us, do they have a XXX view of my bedroom?)
. . . to the poignant:
(Will my deceased father be with me when I walk down the aisle on my wedding day?)
. . . to the heartfelt:
(When loved ones leave this life too early or under tragic circumstances, are they eternally heartbroken or can they find peace in heaven?)
Concetta Bertoldi has been communicating with the "Other Side" since childhood. In Do Dead People Watch You Shower?, the first-ever book of its kind, she exposes the naked truth about the fate and happiness of our late loved ones with no-holds-barred honesty and delightfully wry humor, answering questions that range from the practical to the outrageous. In addition she shares with us her own intimate secrets, revealing with refreshing candor how her miraculous gift has affected her life, her marriage, her friendships, and her career, as well as the myriad ways she has used it to help others.
Personal note: I was hesitant if I should take the translation as those who know me must be aware that it is not exactly my cup of tea. However, in the end, translator is not responsible for the contents, my friends said. And the book has many vivid moments, especially when Concetta tells us the stories of her "real" life on this earth and I was enjoying translating it.
For sale: http://www.harpercollins.com/9780061351228/do-dead-people-watch-you-shower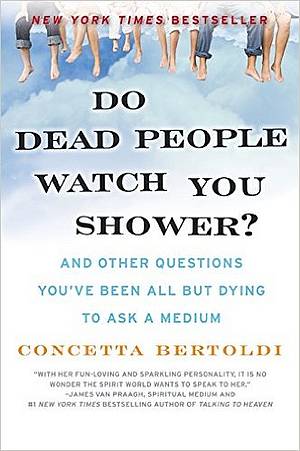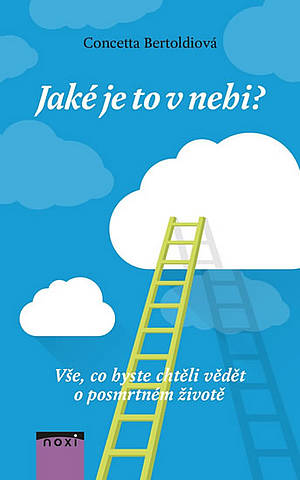 - Tony Crabbe - BUSY (How to Thrive in a World of Too Much)
Translated from English into Czech under the title:
Proč nikdy nestíhám- Jak najít rovnováhu mezi prací a soukromím
Czech Publisher: Noxi 2015, 352 pages
ISBN: 978-80-8111-240-9
EAN: 9788081112409
Over the past 20 years, all of us who are connected to the Internet have been overwhelmed by the disease of busy-ness. We seem to have less control over professional and social lives and ever more and more consumed by a world of "too much". This book is the medicine we have been looking for to become healthier, happier and successful human beings. It is packed with great ideas built on cutting-edge research and best practices. Interesting stories and wonderful practical strategies help the reader to be able to truly thrive in today's busy world.
tonycrabbe.com/busy/

20th Century- old translations
From Portuguese into Czech
1.Manuel Rui: Full Board or No Board
Czech Title:S penzí nebo bez penze.Světová literatura -World Literature magazine-1/82, page 155 – 165
(a short story, Portuguese original Com ou sem Pensao from a story collection Regresso Adiado – 1973)

Portugal at the beginning of the seventies. Many Angolans are looking for a better future there. However, some Portuguese are economically struggling exactly as the people who came from the Portuguese colonies. The story finishes with a punch line containing subtle note on prejudice and superstition among white population in Portugal.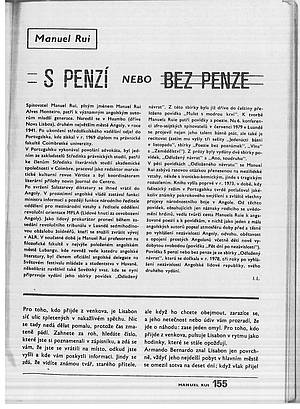 2.Manuel Rui: If I Could Become a Wave
Czech Title: Kéž bych se mohl stát vlnou. Světová literatura–World Literature magazine-3/88,
page 166-188 - (a short story, Portuguese original Quem me Dera ser Onda)

A short story describing situation in Luanda after declaration of independence 1974. The country is re-inventing itself and has to face many problems, including lack of basic foodstuffs. The idea to fatten a pig on the terrace of a flat results into many comical situations, however, it is also a satire on human behaviour under difficult circumstances - seen with eyes of a young boy.
From German into Czech
Patricia Vandenberg : What's next? (Co bude dál?), Evenings Under the Lamp No. 990, Ivo Železný Prague 1994
A love story from the environment of doctors.
From English into Czech
1. Robin Cook: Contagion Czech Title Epidemie, Knižní klub Ikar 1996, repeated editions Euromedia, Prague, ISBN 80-242-1206-4
From the introduction: One of Cook's most successful--and timely—bestsellers. Contagion is a terrifying cautionary tale for the millennium as a deadly epidemic is spread not merely by microbes—but by sabotage...
2. Johnny ' Two Combs ' Howard: Direct Action
Czech Title Přímý úder - Slovanský dům Publishing House 2001, ISBN 80-86421-52-X

Synopsis : The most dangerous terrorist of the world, Osama bin Laden, organized terrorist attacks in Jakarta and Lagos. The patience of superpowers is over. The United States and Great Britain decided it was time to perform a direct action against bin Laden. The Supreme Command developed plans for a massive air attack at his secret base in Afghanistan to be carried out by elite units of both countries. Will the best trained and toughest warriors of the West succeed in their search for the cruel terrorist? Direct Action is a riveting reading – the reality and fiction do not have strict boundaries. As we all know today, the operation Tora Bora in 2001 was not successful. It took another 10 years to complete this mission, Osama was killed by American elite troupes in his house in Abbotabad, Pakistan in 2011. (the translation appeared 2001 after real attempt to destroy Bin Laden finished with disaster - thereby the book became very much topical and I had to give a couple of interviews to journalists why I decided to translate exactly this book.)

The author Johnny Howard was a member of the elite British SAS (Special Airs Squadrons). In their ranks he participated in many actions in various parts of the world, e.g. he intervened against terrorist forces in Northern Ireland, was deployed in Colombia in the fight against drug cartel and participated in the war in Sierra Leone. Since 1993 he is a career writer of action novels, based on his detailed knowledge of special units.
3. J. L. Heskett, W.E. Sasser Jr., Ch WL Hart : Service Breakthroughs - Changing the Rules of the Game - The Free Press, New York, USA
Czech Title - Služby– cesta k úspěchu - Victoria Publishing ISBN 80-85605-36-8,1990

Synopsis: What do Citicorp, UPS and Marriott have in common? They are breakthrough service providers, firms that changed the rules of the game in their respective industries by consistently meeting or exceeding customer needs and expectations. To find out how these companies do it, service management experts put the question to the chief executive officers of fifteen of America´s leading service firms attending a workshop at the Harvard Business School.
The first chapter analyzes the way successful businesses make contact with the customer. The second chapter discusses strategic planning. The third chapter explains how to promote customer loyalty and retention. The quality and efficiency of services are the focus of fifth to seventh chapters. Synergy creation of chains, information technologies and employees is the subject of the chapters nine to twelve. The eleventh and twelfth chapters summarize the ways in which people in major service organizations are motivated. The thirteenth chapter discusses the forces encouraging trend towards "future perfection" and the constraints on the path to achieving it. The final chapter provides an overview of the main themes of the book that compares an excellent pioneering service company with the one which is "only good". The book was recommended as an additional study material for students of services and tourism and as an inspiration for service providers (hotel directors, managers of service enterprises).
4. The Way to Success by David Elcome and John Bains, Evropský výbor pro environmentální výchovu a vzdělávání, IUCN Praha 2000.
Czech title: Cesta k úspěchu. O práci s lidmi žijícími v chráněných územích nebo v jejich sousedství při přípravě a realizaci plánů péče o tato území