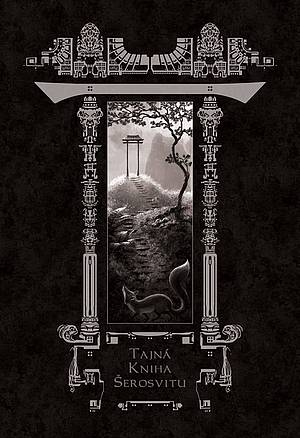 The Secret Book of Chiaroscuro (Tajná kniha šerosvitu)
Fantasy novel in short stories
Publishing House Albatros Praha, 2011
Cover, illustration: Jan Dřevíkovský
EAN: 9788000026381
Pages : 256, hard cover, laminated
Synopsis
This urban ghost fantasy with horror elements was written by a team of five Czech female authors: Karolina Francová, Sanča Fülle, Vilma Kadlečková, Lucie Lukačovičová, Julie Nováková.
It takes place in Bohemia of our time, in a few specific towns, but also in the afterlife Empire of Chiaroscuro.
Secret Book of Chiaroscuro is the story of two half-breeds, a brother and a sister, who were separated in the childhood. He grew up in the Empire of Chiaroscuro, she grew up in the Czech town of Liberec. Both are being pursued by the Exorcist of Chiaroscuro, whose sole job is to keep the two worlds separated from each other. The narrative of their lives unfolds against the backdrop of other tales and whilst reading these tales of chiaroscuro it starts to form in the reader's mind like a mosaic.
What is Goldenbeing? What kind of Mongrels are we talking about? Who is the Exorcist? What if in addition to our world there is a phantom world - Chiaroscuro, not as a "fairyland", but as another layer of reality, bound to our world? World of phantoms, which was created as a result of human intellectual activity and the existence of which is dependent upon the existence of human civilization, because it gives to it permanently an energy and enables its constant renewal?

This world complies with our world like a moving image. It copies everything human, only everything that belongs to the human world, seems eerily in the world of Chiaroscuro. Chimerical towns like Oldtower (Prague), Goldpound (Liberec), Hartavor (Tábor) are hovering on glittering strands in that world of eternally blowing Tide. Phantoms are living there. They are born from human emotions and feed on human emotions. They need people, but on the other hand they are terribly afraid of them.
Website novel: http://www.serosvit.cz/
Trailer - YouTube: http://www.youtube.com/watch?v=Dm2WpqXKINE