The Land of Coconut - God´s Own Country
History. Kerala lies on the south-west coast of India which is called Malabria. According to Sumerian records it was a major spice exporter from as early as 3000 before Christ. Its fame as the land of spices attracted ancient Babylonians, Assyrians and Egyptians to the Malabar Coast in the 3rd and 2nd millennia before Christ. The first recorded history of Kerala appears in the inscriptions of the Mauryan Emperor Ashoka (269-232 b.C.). In these inscriptions, Ashoka refers to four independent kingdoms that lay to the south of his empire. In the last centuries before Christ the coast became famous for its spices, especially black pepper, also among the Greeks and Romans. Until today, production of pepper contributes to a significant portion of the total national output, together with other spices, natural rubber, coconut, tea, coffee and cashew.

Tea Harvesting
The present culture of Kerala traces its roots from 3rd century AD. It is a synthesis of Aryan and Dravidian cultures influenced over centuries by other parts of India and from abroad. Later history is similar to the history of other Indian states with various local rulers and later colonial powers (Portuguese, Dutch, British) fighting for supremacy.
Kerala´s area is only approximately like the one of Switzerland and therefore it belongs to smaller Indian states. Two independent kingdoms, Travancore and Cochin, joined the Indian state in 1949. Kerala was formed in the year 1956 by merger of Travancore and Cochin.

The Kingdom of Travancore (1729-1949) was a feudal kingdom and an Indian princely state that had been ruled by the Travancore royal family from the capital at Padmanabhapuram or Thiruvananthapuram-Trivandrum. The Kingdom at its zenith comprised most of modern day middle and southern Kerala and southernmost parts of Tamil Nadu. The King of the state was accorded 19-gun salute, the second highest among the honorary gun salutes that were granted by the British Empire to honour the heads of princely states. The government took many progressive steps in the socioeconomic development and the state belonged to the best of princely states with reputed achievements in education, political administration, public work and social reforms. That was probably also the good basis for further positive development of Kerala after it became a part of Indian Republic.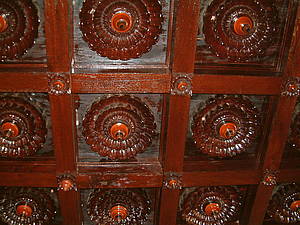 Padmanabhapuram Palace Trivandrum
We were staying in a hotel which presented itself as a follower of Travancore tradition not only by its name Travancore Heritage but also by extensive ayurvedic programs.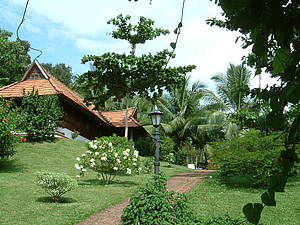 Travancore Heritage Hotel and Surroundings

After the merger of Travancore and Cochin into today´s Kerala the next elections resulted in a communist-led government, one of the first democratically elected in the world. In the following years, the Chief Ministers of Kerala belonged to the Communist Party (which always alternated with the Indian Congress Party) in the years 1957-1959, later from 1967-1981 (14 years), 1987 – 1991, 1996-2001 and 2006-2011.
It is very interesting to observe that Kerala governed in this way belongs in many parameters to one of the most developed Indian states – it would not be correct to jump at any conclusions or generalize but obviously the alteration of the two parties, one of them communist, must have contributed to this positive result.
Kerala has the highest Human Development Index, the highest literacy rate of 95.5 % and highest life expectancy (77 years). Kerala has also the lowest homicide rate and is the least corrupt state in the country as per Transparency International. The state has the highest media exposure in India with newspapers publishing in nine different languages, mainly in English and Malayalam. 2011, Kerala became the first state in the country to have at least one banking facility in every village. Technopark in the Kerala´s capital Trivandrum is the largest IT employer in Kerala and employs 35,000 people. It was the first and became the largest IT Park in India where all important software giants have their offices.
In a total, Kerala got selected as best of the Indian states in 2013 based on the criteria of GDP Governance, health and education. Kerala's 10% rise in GDP is 3% more than the national GDP of India.
Geography. The eastern region of Kerala consists of high mountains, gorges and deep-cut valleys immediately west of the Western Ghats' rain shadow.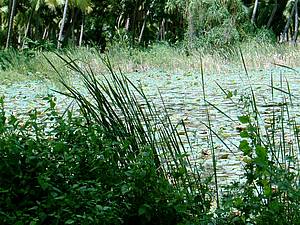 Mountainous part of Kerala, Water Lilies Pond

Kerala's western coastal belt is relatively flat to the eastern region, and is criss-crossed by a network of interconnected brackish canals, lakes, estuaries and rivers known as Kerala Backwaters.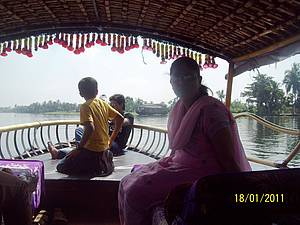 Backwaters
Kerala is an important tourist destination. Besides the Backwaters there are other attractions, like beaches, Ayurvedic tourism and tropical greenery.

Kovalam Beach
We visited Kerala to relax and to admire its natural beauties and beaches but also to see the South Indian temples. South Indian temple architecture, called Dravida style, applies to the temples built between 7th and 18th century, especially in Tamil Nadu, Karnataka and Andhra Pradesh (only some of them are in Kerala). These temples are characterized by its pyramidal tower, elaborated stonework and carved reliefs showing mostly the life of Indian gods.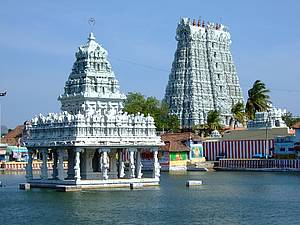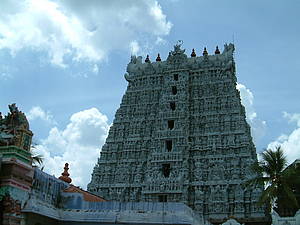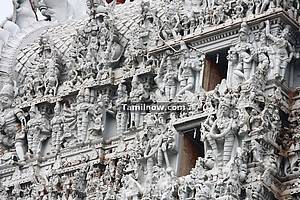 Tamil Nadu - Suchindram Temple
The most interesting part of visiting a new country or a new region have always been for me getting acquainted with its people. In Kerala we could see children visiting various museums and historical sites with their teachers - children seemed to be enchanted.

Students´choir on the steps of Napir Museum, pupils in uniform, a little boy praying
One of our employees gave me his consent to show pictures from his wedding - a typical wedding ceremony in Kerala. Wedding is a very complicated matter and it is governed not only by religion, caste, and region, but also by the family background - every family might have it own special customs.

Wedding in Kerala