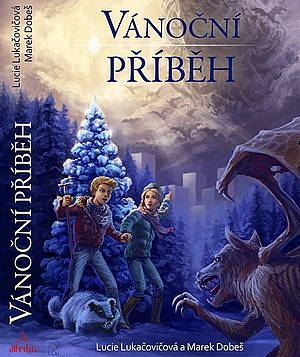 Lucie Lukačovičová: Christmas Story
Original Title: Vánoční příběh
Published by: Alfedus 2013
Hard Cover
ISBN13 9788026052579
EAN: 8595623600024
216 pages
Christmas Story is trying to bring us near the Infant Jesus, in a way we know him not only from the bible, but also from the tradition of folk art. The story has been based on Czech Christmas and their unique atmosphere. It is intermingled with subtle humor and adventurous experience of two young children. During some holidays, the world of dreams and the world of reality are getting closer. The supernatural world and the world of everyday life. Christmas is among those holidays. It's the best time to venture into the exotic country of fantasy. Children's fantastic world is such an exotic country.
Twins Magda and Peter, along with an old Badger, who can talk, travel to a fairyland and learn about other magical creatures such as the Three Kings or sinful ruler of Hell Lucien. Like typical siblings they often quarrel about anything and everything. But suddenly they observe that strange things started to happen with Christmas. The bells are not ringing any more and gifts given with love are crumbling in their hands. Is it caused by quarreling siblings, by an estrangement of their parents, or by some other unknown forces? What can two small children do about it? Will they be able to set the things right again?
The book enjoyed excellent reviews and good sales at the market.
http://eshop.alfedusmusic.cz/knihy/vanocni-pribeh-lucie-lukacovicova-marek-dobes.html